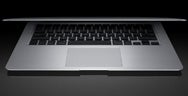 Owners of last year's MacBook Air models who've been running into problems with iTunes got some relief Wednesday in the form of an Apple software update. The catchily-named Mac OS X v10.6.7 Supplemental Update for 13" MacBook Air (Late 2010)—or "update" for short—tackles an issue where Apple's ultra-thin laptop became unresponsive when using iTunes.
According to an Apple support forum discussion, the problem first cropped up after this month's Mac OS X 10.6.7 update. iTunes would crash on launch after some 13-inch MacBook Air owners installed the updated operating system. (The problem didn't affect all MacBook Air owners, according to Macworld Bugs & Fixes columnist Ted Landau, who uses a 13-inch MacBook Air and never ran into the issue.)
Apple recommends the 461KB update for anyone who's got a 13-inch MacBook Air model from late 2010 that runs Mac OS X 10.6.7.
13.3-inch MacBook Air/1.86GHz (128 GB)
Apple MacBook Air MC504LL/A Notebook