Editor's Note: The following article is reprinted from GamePro.com. For more gaming news, visit GamePro's news page.
Grasshopper Manufacture this week unveiled Frog Minutes, the game developer's first app for the iOS platform. Its release coincided with the company's Grasstream 2 event, an occasion originally intended to celebrate Grasshopper games' oddball characters; instead, Grasshopper decided that both the event and the app should be used as opportunities to benefit the victims of the Tohoku earthquake. Along with all the merchandise and collectors' items sold at Tuesday's event, all proceeds from Frog Minutes go to the Japanese Red Cross.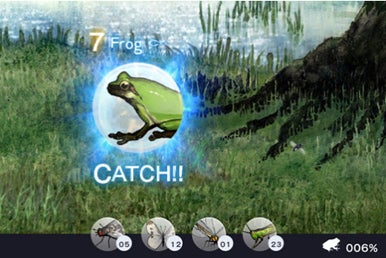 Grasshopper Manufacture's reputation is tied to its iconic and controversial CEO, game "auteur" Goichi Suda—aka Suda51. Suda is behind the otaku-focused assassin title No More Heroes and the cult-classic first-person shooter/action game, Killer7.
Given Grasshopper's proclivity for unusual and immersive titles, it isn't only surprising that Frog Minutes is a casual game, but that the game is so soothing. Frog Minutes isn't a traditional "game," per se; there's no demanding pace, set objectives, or structured narrative. Players tap and collect butterflies, snails, grasshoppers, dragonflies, and any number of crawly critters against a serene, hand-painted backdrop, feeding the eponymous frogs with their collected quarry. The app also offers educational trivia about the different species you've stockpiled. As further reward, a woman with a stewardess-like demeanor will cheer you on as you progress. While strange in its execution, the app is clearly meant to relax more than challenge.
Obviously, designing for the iOS hasn't made Suda lose his idiosyncratic touch at all. Frog Minutes might be a strange experience for iOS and Grasshopper fans alike, but the game's charitable goal and unique pedigree should draw interest from iPhone and iPad gamers of all stripes. On Tuesday, Grasshopper Manufacture proved that the company not only seeks to entertain its fans, but can organize them towards a humanitarian goal as well.