Not content to let competitors like Carbonite have all the iOS fun, online backup service Mozy has released its own iPhone app.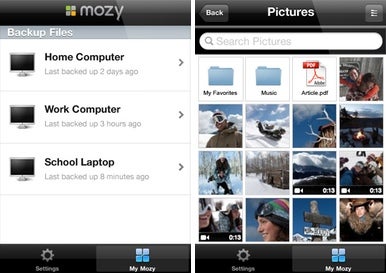 Mozy's new app for iPhone and iPod touch lets you view files from all of your backed up computers. You can search for a specific file, view a folder of photos as a gallery, download a high-resolution copy of a photo to your device, and e-mail files to friends, family, and coworkers.
In addition, Mozy supports iOS 4.0's Document Sharing features, allowing you to open a file in any app that supports it. Even Facebook makes a cameo, as you can choose to publish a handful of file types to the omnipresent social networking site.
Mozy 1.0 is free and requires an iPhone or iPod touch running at least iOS 4.0, but you'll need an account from Mozy.com to use it. The company offers paid plans (which it recently restructured, disappointing a good portion of its users) that start at $6 per month for 50GB of storage. While it also offers a free plan with 2GB of space, I had to resort to Google to find it.
Mozy announced its plans for an iOS app earlier in March, when it also revealed that it was gearing up to compete with file sync and collaboration services. It is now beta testing desktop clients that enable real-time file sync between multiple computers, features that have been popularized by services like Dropbox and SugarSync.