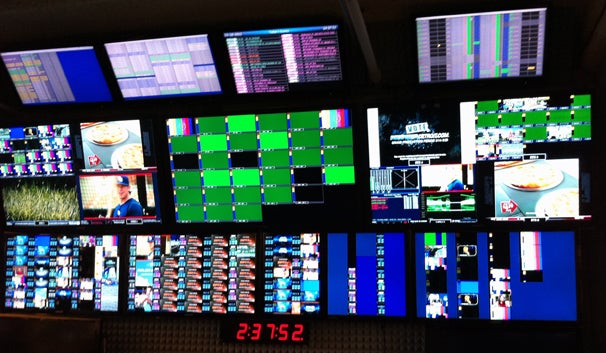 Major League Baseball Advanced Media's network operations center in New York looks a bit like a NASA control room. Computers cover several rows of tables, all facing a wall covered with eleven massive flat-screen displays. To complete the space-shot feel, there's a red digital clock just below, slowly ticking toward blastoff—er, first pitch.
This room (and several other floors of workstations and servers) in a converted 19th-century cracker factory is the center of live sports streaming in the U.S. MLBAM collects, processes, and streams video, audio, and metadata of every game of the baseball season—as well as numerous other events, such as the NCAA basketball tournament and ESPN's entire slate of streaming-video broadcasts.
It's funny to consider that not too long ago, Major League Baseball was viewed as the most backward, the most hidebound of all the major U.S. sporting leagues. But the founding of the MLB Advanced Media (MLBAM) division—it's a venture jointly owned by all 30 clubs, who share its profits—turned out to be a masterstroke.
Nestled in New York City's funky Chelsea Market (rather than the league's more staid offices uptown), this is an operation with the feel of a high-tech startup. There's a massive network infrastructure that allows high-definition video from dozens of sources to flow in, huge racks of servers to encode video in a dozen different formats, a sea of iMacs that are used to add pitch-by-pitch metadata to the party, and teams of developers to create apps on platforms as disparate as iOS, Flash, PlayStation 3, and even the LG TV set I have in my living room.
I visited MLBAM during Spring Training, and things were relatively quiet—but beginning with Thursday's Opening Day the place will become a hive of activity. Once all 30 clubs are playing on the same day, the control room will be processing more than two-dozen high-definition video feeds.
It's the media hub of baseball, so much so that when league officials decided to institute limited in-game instant-replay review of certain calls, they set up the system inside this very room. (It's since been moved to a smaller room on the opposite side of the big video wall, dubbed the "replay operations center.")
Fans watching a game on their iPad, Apple TV, Roku player, or any other device might not realize just what's involved in getting that video stream to their device. It's a process that begins in the network operations center, which is tied in to every major-league stadium and all of the team broadcasters. Those video feeds are encoded into 12 different bit rates and formats (all using the H.264 video codec).
Even that process isn't a simple: the video engineers in the control room have built custom pre-sets for encoding video from different ballparks, day and night, as well as pre-sets for different broadcasters. That's because a network like ESPN might prefer a warmer color palette with more saturation than a local cable broadcaster, and of course the lighting and coloring in each ballpark can be quite different.
And then there's encoding that video down in a way that it can reach a device at the end of a phone, or even a slow home Internet connection.
"Mobile is challenging," said Joe Inzerillo, MLBAM's senior VP of multimedia and distribution, as we stood in the middle of the network operations center. After all the work MLBAM does to make sure the high-definition video it receives is of perfect quality, then it's time to crush it into something a mobile device can receive. "It's like ordering a nice meal, made for you by a chef, and then discovering you have to put it through a straw."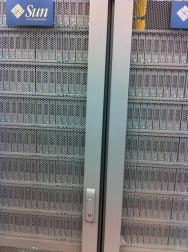 Inzerillo led me across the street to look at the massive amount of hardware powering his operation's encoding and storage systems. Here are racks of systems, each dedicated to encoding a single stream for a single broadcast at a single bit rate. In the next row is a wall of 750GB hard drives. On a different floor there's a massive digital tape archive (with 30 petabytes of storage capacity) with a little tape robot zipping from slot to slot.
Meanwhile, back across the street at Chelsea Market, there's an ever-growing set of cubicles full of iMacs. Here, seasonal workers use custom-built apps to log every pitch, data that's combined with pitch-by-pitch data coming from a separate system at the ballpark. Every commercial break is marked as well, since MLB.tv streams don't show local commercials.
Just across the way, another set of iMacs running Final Cut Pro serve as cutting stations for highlights, condensed games (batter-by-batter recaps of an entire game in less than 30 minutes), and other video products that go beyond the live streams. The system is built for speed, so much so that the system actually anticipates potential highlights (for example, a home run) and begins encoding them immediately, so that once a person officially deems something a highlight, the video may already be ready to be pushed out.
Likewise, the pitch-by-pitch metadata allows the system to create an initial cut of a condensed game based on the time code of the action pitches of each at-bat. That serves as the starting point for the editor, who uses Final Cut Pro to tighten things up and get the condensed game ready to go… in less than half an hour after the game ends.
Of course, baseball fans will never see these custom logging apps written for the iMacs at MLBAM, but there are plenty of development projects that they will see. The company collaborated with Apple on the newly released MLB.tv support for the Apple TV, and works with plenty of other embedded systems, including competing video-streamer boxes, video-game consoles, and TVs.
Then there's the mobile team, which spent this offseason giving MLB.com at Bat 11 for iPad a full development cycle for the first time—you get the sense that last year's release was a bit of a fire drill in order to make it from the iPad's announcement date in January to Opening Day in April.
The MLB.com at Bat iPhone app, which is MLB's oldest mobile app, was "refactored" in the offseason—the new version offers improved features, but it's also faster and has better memory management, making it more stable. The two iOS apps are built on separate code bases, but according to Chad Evans, MLBAM's product manager for mobile, they're getting closer together.
There's also a new Android app, though it lags behind the iOS due to issues with Android itself. The app is only supported on a small number of phones, due to the wide variety in hardware and software configurations. And Android's built-in media streaming "was no good," according to Evans, so MLBAM had to build its own for use in the app.
The MLB developers are also well aware of some of their apps' shortcomings. For example, many users listen to game audio on the iPad app while watching the Gameday pitch-by-pitch readout. The problem is, the audio and game data are usually not in sync. (This is less of an issue on the iPhone, where most users are listening but not watching.) So iPad users will see that a batter has struck out while the radio broadcast they're listening to is three pitches behind—not good. So the MLB development team has been taking advantage of some improvements Apple has made to streaming in iOS, and is working on the ability to sync up game data and media streams. This means that pretty soon you should be able to watch or listen to a game, and your app's Gameday view and even its boxscore will be current relative to where you are in the audio or video stream.
Another limitation that the people at MLBAM are painfully aware of? The fact that you can't watch streaming video of local teams. Unfortunately for them, that's not something they can control: it's a rule that also affects the MLB Extra Innings package on cable and satellite, and it has to do with contracts with local broadcasters. But unless you're a fan of an out-of-market team (or just like watching baseball, no matter the teams), the $99 MLB.tv subscription-video package is not for you.
The MLBAM guys are trying to find ways to at least mitigate the pain, however, by updating the MLB.com At Bat for iPad app to support "live look-ins," where at a few key moments during a game, app users will be able to see live video, even of home teams.
Those key moments will be routed through the control room, chosen by someone sitting at an iMac station in Manhattan, crunched by encoders, and then sent out through the Internet. Who said baseball was a pastoral game, exactly?