Major League Baseball Advanced Media released updates to its mobile apps late Wednesday, adding some major features to its iPad and iPhone editions and also bringing regular-season coverage to Android for the first time.
Take a look inside baseball's media nerve center.
As exclusively previewed on Macworld.com, the $15 MLB.com At Bat 11 for iPad has gotten a major makeover. The Gameday view is less cluttered and now features custom graphics (courtesy Sony's MLB 11: The Show video game) representing every major-league park and team uniform. The overall design of the app has been simplified, while the scoreboard has been reworked with a new block-letter typeface and background insets reminiscent of the hand-operated scoreboards of yore. Tap on a pitch in the Gameday view and you'll get detailed Pitch f/x data from MLB's in-stadium tracking system.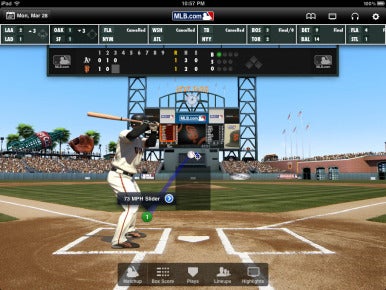 Both the iPad app and the $15 MLB.com At Bat 11 for iPhone will feature free out-of-market game video for all users during the month of April. (The MLB.tv season-long video streaming package costs $99.) Both apps also now support "live look-ins," which allows users to see key moments from games, as they happen, including feeds from local teams. There's also new support for archived games, so if you want to re-live a game from earlier in the 2011 season, you'll be able to do so. (Sadly, archive support doesn't yet go back to previous seasons.)
New to the $15 Android app is support for most features that previously were only available on the iOS apps, including live out-of-market games, ballpark-specific information, and audio broadcasts, in addition to new features such as live look-ins. There's also a customizable home-screen widget, a feature not available on iOS. To play back live view, an Android device must be running Android 2.2, support Flash, and have at least an ARMv7 processor.
There's also an update to MLB's $15 Blackberry app, which supports radio broadcasts and video highlights.