When GarageBand for iPad arrived earlier this month, its laundry list of features included the ability to take projects you created on your iPad and open them in the desktop version of Apple's music-creation application. There was a catch, however: before that could happen, Apple needed to update GarageBand '11 to support that feature.
That update arrived Thursday in the form of GarageBand 6.0.2, which promises support for opening projects imported from GarageBand for iPad.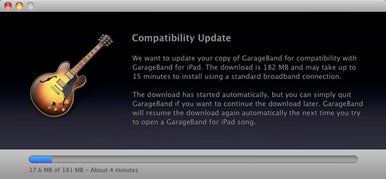 The 47MB update is available from Apple's Support Website as well as via Software Update. Note that after installing the update, if you try to open a project exported from the iPad version of the app, GarageBand will prompt you to download a second patch for compatibility. After everything's installed, GarageBand '11 will support opening any project you've exported from GarageBand for iPad, allowing you to expand upon your eight-track-maximum masterpiece.
In addition to support for iPad files, the 6.0.2 update claims to improve overall stability while tackling a number of other minor bugs.
You'll need to be running Mac OS X 10.6.3 or later to install the GarageBand update.
Updated at 3:53 p.m. to correct the maximum number of tracks allowed in GarageBand for iPad.