Editor's Note: The following review is adapted from Five Star Apps: The Best iPhone and iPad Apps for Work and Play by Glenn Fleishman. (2010, Pearson Education and Peachpit Press).
The WordPress app for the iPhone, iPod touch, and iPad does an able job of providing access to the most common features used in the blogging system. WordPress users should find it useful for simple posting, as it's not designed to replace the million widget and controls in a WordPress posting page or dashboard.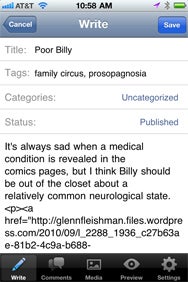 The WordPress app from Automattic takes advantage of the mobile hardware, letting you geotag a post (i.e., embed coordinates into the post that tags where you are with your permission), and pull in stored photos or snap a picture. You can upload video from an iPhone or latest iPod touch and iPad. The app also supports multiple WordPress accounts in case you have or contribute to more than one blog. You can even create a new blog from within the app.
This app is most useful when you need to post something without a computer handy, and want to take advantage of mobile features. If you have a full browser, though, the app is no replacement.
[Glenn Fleishman is a senior contributor to Macworld.]