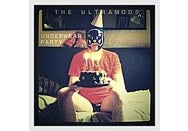 If you didn't foresee a band using the new GarageBand for iPad to record its next album, you might want to get your eyes (and ears) checked.
The Ultramods lays claim to this achievement, as it is apparently the first band to record all instruments and vocals for an album using the iPad version of GarageBand for iPad. That 12-track album, Underwear Party, is now available in the iTunes Store for $10; you can also stream it for free on the band's site.
The band, which writes "pervy pop punk" and "technologically obsessed new wave," told The Loop that all the instruments used on the album were those included in the app.
Of course, the Ultramods aren't the first band to go all-in with the iPad to record an album. In November 2010, the alt-rock/fictional project band Gorillaz announced that it had recorded its next album, The Fall, entirely on an iPad, albeit with a variety of third-party music apps. While The Fall was released to the band's fan club members in December, it's currently available for pre-order on the iTunes Store, and will arrive on April 19 for the general public.