Look around. Do stacks of paper cover your desk and crowd the corners of your keyboard? Do you ever wish you could find and use paper documents as easily as digital ones? Whether you're tired of the clutter or want to modernize your workflow, it may be time to take steps in the direction of a paperless future.
Back in 2007, I wrote an article (" The Real Paperless Office") that covered the basics of scanning paper documents and turning them into searchable PDF files. Since then, interest in the paperless office has grown steadily, as has the selection of relevant hardware and software products geared toward Mac users. Here's an updated look at the tools and techniques you need to make it happen.
Paperless office basics
Reducing clutter is one good reason to take your office paperless, but perhaps an even more compelling benefit is that when files are electronic they're searchable. That means no more rooting through endless folders and filing cabinets looking for one elusive page. What's more, you can share any document easily, and back them all up so that if disaster strikes, you'll still have access to your data.
The key is the searchable PDF format, which contains a scanned bitmap image of a paper document with an invisible overlay containing searchable, selectable text. Your scanned documents look exactly like the originals, but you can interact with them as if they were PDFs created using a word processor.
Any of numerous OS X applications (as I discuss in a moment) can turn a scanned image into a searchable PDF. Combine that software with a speedy scanner, and you'll tear through your paper files in no time. You can then recycle or shred the papers you no longer need and store only those for which original copies are essential.
Tips to start
However, scanning incoming paper is just part of the process. I also recommend the following: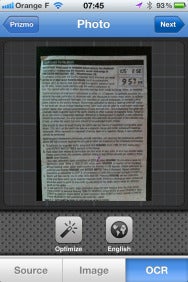 Reduce incoming paper Ask to be removed from physical mailing lists. Request that clients and vendors switch to electronic invoicing and payment methods. Opt for electronic delivery of bank statements, utility bills, and the like.
Reduce outgoing paper To help break the printing habit, try saving documents in PDF format instead, and then copying them to your favorite iOS device so you can carry them with you. (Every OS X application that can print can also create PDFs. Choose File -> Print and then choose Save As PDF from the pop-up PDF menu in the lower-left corner of the Print dialog box.) You might also try using an Internet-based fax service such as eFax rather than a physical fax machine.
Put OCR in your pocket Instead of collecting business cards, brochures, and handouts when traveling for business, pick up an iOS app that lets you snap a photo with your iPhone or iPod touch and perform OCR right on your mobile device. Examples of such apps include Norfello Oy's $1 DocScanner 5.0 and Creaceed's $10 Prizmo.
Scanner Options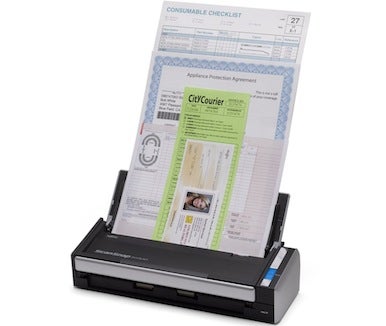 If you're hoping to convert hundreds or thousands of printed documents to digital format, you want a fast, no-nonsense document scanner. Although a flatbed scanner may be fine for photographs and an all-in-one device (printer, scanner, copier, fax) saves space, neither is ideal for scanning large quantities of business documents. The most important attributes to look for in a document scanner are fast single-pass duplex scanning, a capacious automatic document feeder (ADF), and a OS X-compatible software bundle that includes easy-to-use OCR capabilities.
Mac users have more than a dozen such options in the $300–$500 price range. I've been very happy with several different Fujitsu ScanSnap models I've used (my current pick would be the semi-portable ScanSnap S1300), but scanners with comparable features and prices are also available from companies like Canon, Epson, The Neat Company, Visioneer, and Xerox.
OCR Software
Almost every document scanner includes bundled OCR software. For example, Fujitsu's ScanSnap scanners and Epson's WorkForce Pro scanners come with versions of ABBYY FineReader, and Neat scanners come with NeatWorks software. However, if you prefer software with specific features not found in the bundle (such as support for additional languages or advanced PDF editing), you can buy stand-alone OCR software.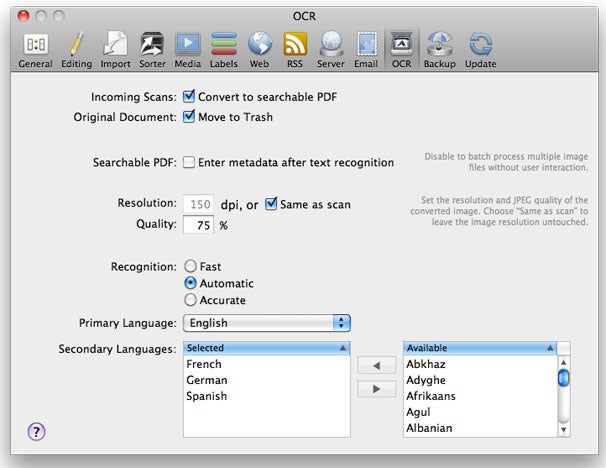 Four years ago, I suggested that the $449 Adobe Acrobat Pro ( ) and IRIS's $130 Readiris Pro were among the best choices. Although both still work, I now find other applications easier to work with. Of the 18 OS X OCR programs I found when researching my e-book Take Control of Your Paperless Office , my three favorites were these:
ABBYY FineReader Express for Mac Although several scanner manufacturers bundle limited versions of this software, Abbyy's $100 full version ( ) is even more powerful, with a selection of image-manipulation features and support for 171 languages.
DEVONthink Pro Office This $150 all-purpose document manager from DEVONtechnologies not only does OCR but also integrates tightly with Fujitsu's ScanSnap scanners, letting you scan documents, convert them to searchable PDF, and add them to your document database with one button press.
PDFpen Smile Software's $60 PDF editing and annotation tool ( ) does OCR too, and also has good AppleScript support.
Scripts Ahoy
Virtually all scanner software can save scans in the folder of your choice and in a variety of formats, including PDF. However, that alone doesn't give you a searchable PDF; you must also process the image with OCR software. Some scanner software has built-in OCR capabilities. For example, Fujitsu's ScanSnap Manager software can produce a searchable PDF from scanned documents automatically using a built-in version of ABBYY FineReader, or it can divert raw scans to DEVONthink Pro Office, which can then perform OCR using its own version of FineReader.
However, in some cases the scanner's software does nothing but save unprocessed PDFs, and in others it can open the PDFs in an OCR application but not tell the application to begin recognizing the text. In such situations, your best bet is to use an AppleScript folder action to open the freshly scanned documents and initiate the OCR process. I've created scripts that do just this for Acrobat Standard 7; Acrobat Pro 7, 8, 9, and X; PDFpen and PDFpenPro; and Readiris Pro. Download the scripts and follow the detailed instructions in the Read Me file to configure and use them.
Managing PDFs
Once you have a searchable PDF you can simply store it in a folder and use Spotlight in the Finder to search its contents. However, several other programs specialize in managing PDFs, letting you categorize, tag, or organize them in a more flexible manner than the Finder. DEVONthink Pro Office is one of these; other popular options include Bare Bones Software's $39 Yojimbo ( ), C-Command Software's $40 EagleFiler ( ), and Ironic Software's $39 Yep ( ).
Senior contributor Joe Kissell is the senior editor of TidBits and the author of the e-book Take Control of Your Paperless Office (TidBITS Publishing, 2010).