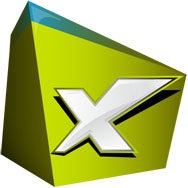 QuarkXPress 9 is due to ship later this month, promising more contextual automation to simplify the creation of complex documents. For example, a new feature can automatically apply styles to text, based on sophisticated rules and a new tool lets you create complex shapes without having to draw them by hand. The new version of QuarkXPress offers nearly a dozen enhancements of that nature.
A major new capability lets you export documents to ePub format for the creation of e-books. QuarkXPress 9 understands the issues inherent in creating ePub files, and provides a good tool for doing so.
Quark has also promoted a new feature called App Studio, which lets you create publications for distribution through an iPad app, using Apple's in-app purchasing capability to manage single-issue and subscription sales. This feature isn't part of the QuarkXPress 9.0 test drive that launched earlier today or the final 9.0 version that Quark will release on April 26th. Rather, Quark says App Studio will be included in a free upgrade to version 9 that is expected to ship by August. (Macworld will formally review QuarkXPress 9 when that version is released.)
Smarter object creation and linking
Over the years, desktop publishing tools have made once-difficult tasks such as text wrap routine. QuarkXPress 9 adds several features that make it even easier to create sophisticated layouts, designs, and documents.
One of these capabilities is the ShapeMaker function, which lets you create all sorts of complex shapes that would be very difficult to draw, even with the program's Bézier tools; think squiggly or curved-sided boxes. With ShapeMaker, you use various controls such as sliders to manipulate the types of shapes it can create, and then apply those settings to an existing or new box. Get ready for a complex-shape boom once QuarkXPress 9 ships.
My only wish is that you could get a real-time preview of the effect on the box you're working with; although there's an onscreen preview of the shape itself, you can't see what the effect will do to existing images in that box until you apply it.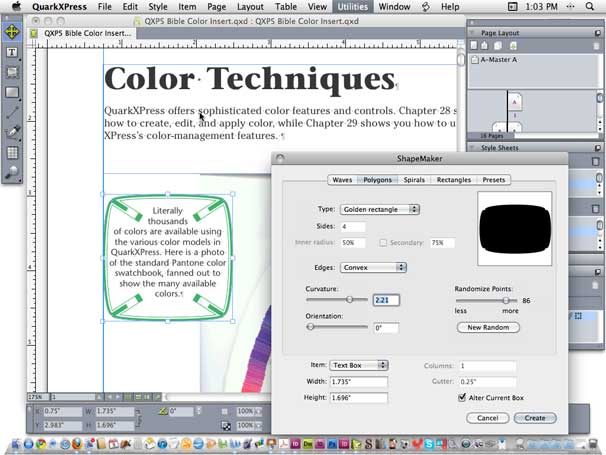 The other major layout capability added to QuarkXPress 9 is the Callouts feature, which lets you anchor items to specific spots in the text, so they move as the text does. Add an anchor in your text, select the item you want to associate to it, and choose Item -> Callout Anchor -> Associate Item to Callout Anchor. Or select a different anchor to associate an item to it. This separation of anchoring from the object creation makes the task easy.
To use QuarkXPress' new ImageGrid, you need to put all the images in a single folder (which can include subfolders); the import applies to all images in that folder and, optionally, its subfolders.
QuarkXPress is precise in ImageGrid placement, as you specify the image grid parameters before importing the images (but you can't preview them in the layout), and the program gives you caption boxes for each image and lets you apply drop shadows to them during import.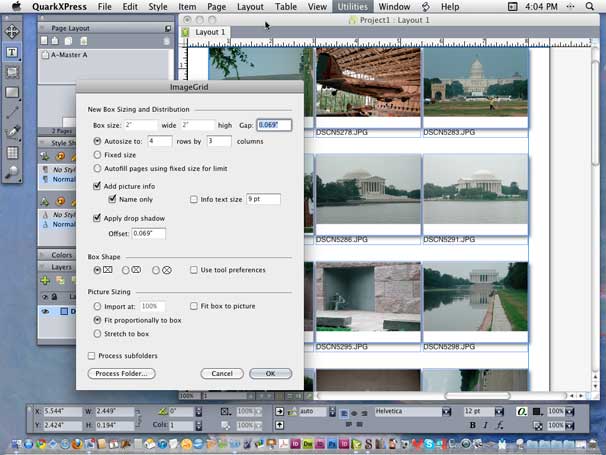 More subtle additions to QuarkXPress 9 are the Linkster and Cloner tools, which will help certain workflows. Linkster lets you break text flow between boxes in ways beyond the usual "break the link between these two specific boxes" method used in the Unlink tool. Using options in the Linkster tool, you can break all boxes, so each one is a separate box containing the original text as separate stories. And you have options to unlink just the selected box from the flow, break the flow after the current box, or break the flow before the current box.
The Cloner tool lets you copy selected items or the contents of one or more pages to any of several locations, including new documents. You can have individual pages copied to separate new documents and multiple-layout documents can be copied so each layout is in its own document.
The final layout addition in QuarkXPress 9 is one of those "finally!" additions: There's now a Story Editor (something PageMaker pioneered 15 years ago) so you can edit a document's text without the distraction of the layout. It doesn't show the style formatting applied to your text; however, you can see some of this information in the Style Sheets palette. QuarkXPress' Story Editor does show overset text, but there's no way to change the font and size of the Story Editor's text.
Enhanced contextual typographic controls
QuarkXPress 9 offers some advancements in the area of typography. Take the case of nested bulleted, numbered, and outline lists. Although Microsoft Word lets you nest such lists easily, to have them work properly in previous versions of QuarkXPress meant applying the correct paragraph style to each list item—manually indicating the level of bullets or numbers. QuarkXPress 9 adds a new feature—called Bullet, Numbering, and Outline Styles—to control the nesting, numbering, and bullet behavior of paragraphs that function as list items.
When you import text in .docx format (but not .doc format), QuarkXPress 9 retains the bulleting, numbering, and outlining in your word file, and converts them into a new type of style called Bullet, Numbering, and Outline. You can then have paragraphs use those styles to ensure consistent formatting of list elements. Plus, as you change text in a list, QuarkXPress updates the numbering as needed.
QuarkXPress treats these styles separately from paragraph styles, so you can attach them to paragraph styles. (You can also apply them within paragraph styles.) That seems like more work than necessary until you realize that this separation means you can reuse such styles, rather than re-creating them for every paragraph style that might use them.
QuarkXPress 9 adds the ability to let tables automatically break if they don't fit in the current page, adding header and footer rows along the way if specified (The tables need to be in a story that flows across pages, of course). But the new version of QuarkPress still can't import tables from Word (they are converted to tabbed text that you then have to convert back to tables within QuarkXPress).
QuarkXPress 9 features an advanced implementation of Conditional Styles, in which you create rules that apply various types of character formatting within a paragraph. This feature has all sorts of uses, from adding a dingbat character to the last paragraph in a story to boldfacing the first phrase in a bulleted or numbered list.
Conditional Styles in QuarkXPress 9 can span multiple paragraphs. Styles can be applied both forward and backward from the condition's location, which means you can have much more flexible rules. And rules can be set to look for specific text or markers and jump to them.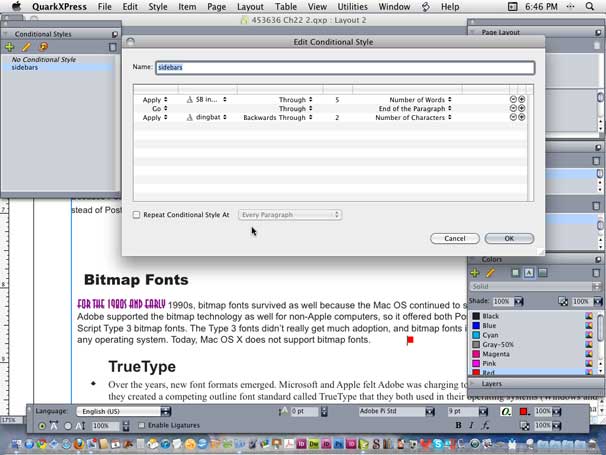 Finally, QuarkXPress 9 adds a small but very welcome ability to its style overrides options. Often, when you're working in a layout, you have to undo unnecessary local formatting applied by the author or editor (for example, an author applies a specific font and text size as a local override to better see the text, rather than simply adjusting the paragraph style). You can override such formatting, but doing so also wipes out legitimate formatting such as italicized text and the use of OpenType style variations, such as automatic fraction formatting.
QuarkXPress 9 now gives you several override options so you can, for example, preserve italics and boldface when overriding text to which a font and type size were manually applied. This little change will save a lot of work for layout artists and copy editors.
ePub export capabilities
One of the major new features of QuarkXPress 9 is ePub export.
Creating ePubs is not simply a matter of exporting a file, like creating a PDF file. That's because ePubs don't understand layout—an e-book is a linear flow of text and images: Concepts such as text wrap, callout, and sidebar have no meaning.
QuarkXPress 9 offers a new reflow view in which you place pages from a current layout whose contents you want to include in an ePub version. You can then change the placement order of elements to work better in an ePub's linear flow, as well as delete items that don't fit and add new ones that make sense specifically in the ePub. You can also edit text in the reflow view without affecting the text in the source layout, such as to handle special symbols and the use of fonts that ePub viewers such as Apple's iBooks don't support.
It does not try to figure out the layout artist's intent but instead lets the artist make these often subjective decisions. Very smart, but not complete.
For example, all text in the reflow view is given the same style, so you lose most of the formatting and have to retag all the non-body text. You have to re-mark up your entire layout either before or after exporting it to ePub format in QuarkXPress 9. You also cannot export multiple layout files or a book file into one ePub, such as in the case of a book where each chapter has its own layout file; instead, you must first combine them into one file.
Also missing are controls over the export resolution of images (which are converted to the JPEG format used in ePubs). If your layout uses leader lines with its graphics, or uses shapes created in QuarkXPress as graphics (such as for workflow diagrams), the ePub export removes them, and any text callouts for those images are placed as independent stories. That means you need to create special versions of those images in Photoshop or Illustrator to keep their graphics and text together.
There's no ePub editing capability in QuarkXPress 9 to do the inevitable fine-tuning; you'll need a separate ePub editor for that.
The bottom line
QuarkXPress 9 builds on the strengths of previous versions, and adds some innovative new capabilities, such as ShapeMaker. It has also added sophisticated tools such as Conditional Styles, Callouts, Linkster, and Cloner, and smart enhancements to style overrides. The new ePub export capability takes the right approach to handling these difficult conversions, despite removing text styles and not providing basic export controls or post-export editing capabilities.
[Galen Gruman is a freelance writer in San Francisco and a long-time Macworld contributor on publishing tools. He is also executive editor of InfoWorld.com.]