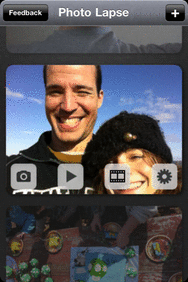 One unexpected result of the rise of digital photography—and iPhone photography in particular—has been a new golden era for time-lapse photography. It used to be that only very patient and very committed photographers would take a picture of their daughter every day for 10 years; now anybody can do it. And software developers are racing for a piece of the action.
Photo Lapse, an offering from developer Brian King, is the latest entry in this field—it debuted Friday in the App Store. Like Everyday, another time-lapse photo app released in mid-March, Photo Lapse is pitched as the perfect product to take a picture of yourself or your kid every day. Once enough photos are compiled, a movie can be created in the app—complete with background music from your phone's iTunes library—and exported to the phone's camera roll.
The app also allows for other types of projects, with settings that let you leave your phone on a windowsill for a couple of hours, automatically snapping a picture every few minutes or so, to create time-shortened views of construction, traffic, or oncoming storms.
Photo Lapse costs $2, and is compatible with the iPhone, fourth-generation iPod touches, and the iPad 2. Devices must be running iOS 4.0 or later.