A recent update to PrintBureau removes the ability of the iPhone and iPad printing app to print from the background of other apps using AirPlay. In the release notes to version 1.8.3, developer EuroSmartz says the feature was removed to comply with a request from Apple.
EuroSmartz co-founder and CEO of EuroSmartz Ian Schenkel told Macworld that Apple asked the company to remove AirPrint capabilities because the app was taking advantage of non-public APIs to enable background printing. To get access to development tools and sell apps in the iTunes store, developers must sign an agreement with Apple in which they agree not to use such APIs. (API is a common term that stands for application programming interface, which is a set of rules that programmers must follow to ensure smooth interaction between the app, the OS, and other apps that run in the OS, as well.)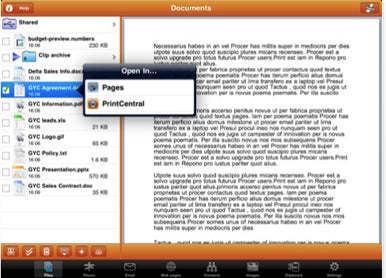 The background feature has also disappeared from the iPhone and iPad versions of PrintCentral, another mobile printing utility from EuroSmartz. PrintBureau essentially bundles both versions of PrintCentral into a single app
The move has not been well received by some customers who've already purchased EuroSmartz apps and have commented on the App Store that the background printing capability had been the primary reason they bought the app. "The latest update kills the AirPrint feature that I purchased this app for," one user posted.
EuroSmartz's Schenkel was also clearly unhappy that EuroSmartz had to remove the capability, saying he disagreed with Apple's interpretation.
"Our apps were not using any hidden functionality from a private API," Schenkel said. "All the code we used was compliant but we assume the fact that we created an AirPrint server for other apps was the issue. We were open about this addition and listed it as a feature in the release notes when reviewed and approved by Apple."
Still, Schenkel added that "We had a good discussion with Apple and we're OK with it. We respect the decision and understand it from their point of view."
As for the way Apple handled the process, "we have absolutely no complaints," Schenkel said.
Schenkel points out that background printing was just one feature in PrintBureau and PrintCentral. "There are loads of other [printing] options," he added. For instances, users can select the "Open In…" command and choose PrintCentral to output to printers on a Wi-Fi network using IPP or printers they've set up using the EuroSmartz's free downloadable WePrint server. Users can also print remotely over the 3G and EDGE networks or save a document in PrintCentral for later printing.
Schenkel said that he understood users' unhappiness, but that EuroSmartz could not issue refunds to dissatisfied users, because Apple is the retailer of apps purchased through iTunes. "We don't have access to people's accounts, and therefore can't give people money back, because Apple's the retailer," he said.
Despite the complaints, Schenkel remained optimistic. "We don't foresee a big problem going forward, because obviously apps can use the 'Open In …' option to print, and there are a number of other printing options provided by EuroSmartz's stable of iOS printing apps," he added.
Updated at 3:35 p.m. to include additional comments from Ian Schenkel.