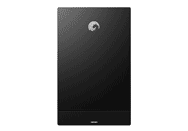 Storage giant Seagate has announced that it will sell what it claims is the world slimmest ever portable hard drive, and the hyperbole stands up to scrutiny—the new GoFlex Slim drive is only 9 millimeters thick.
Does thinness matter? For comparison, the company's current GoFlex portable drive is 14 mm thick, so 9 mm and a weight of 160 grams represents the very edge of what is possible for a storage drive based on spinning hard disk drive technology. The drive's width is about the same as that of a pencil and not much larger than the bulk of many smartphones.
Internally, the drive uses a new version of the Momentus Thin drive, which was announced in late 2009. That drive is 7 mm thick, which means that the GoFlex Slim puts only 1 mm of casing either side for protection, although modern 2.5-inch drives come with shock absorbtion built in, makers say.
"Netbooks and slim laptops are great for consuming media, but are limited when it comes to creating and storing high-definition films and photos," said Seagate's retail storage vice president, Patrick Connolly, by way of explaining the thinking behind the reduced size.
The technical spec is also up to date, featuring a 7,200-rpm spin speed (5,200-rpm has been common until now for such drives), and USB 3.0. The drive is unencrypted at rest but does come with an unnamed backup suite that allows 192-bit DES. This is probably the one element in which it lacks; lose the drive and its contents are vulnerable.
The drive will go on sale in May for the competitive price tag of $100 for the entry-level 320GB model. The prices for larger capacities have not been announced, nor what those capacities will be or when they might be put on sale.
GoFlex Slim 320GB (black)
GoFlex Slim for Mac 320GB