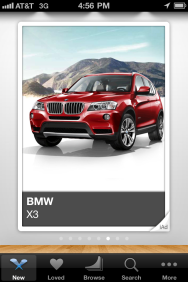 If you're a connossieur of commercials or an aficionado of ads—an adficionado, if you will—Apple's new iAd Gallery app, released on Tuesday, will make your day.
Collected within the free app, you'll find all of the campaigns in Apple's iAd mobile advertising network. Now you can experience the full catalog of interactive spots without having to hunt down one of your iAd-supported apps: Browse through new spots, flip through a comprehensive carousel of campaigns, or search for the exact ad you're looking for—once you find it, you can tap a heart icon to save it to the Loved section on the toolbar. There's even a section where developers and brands can get in touch with Apple to express their interest in joining iAd.
Apple first announced iAd in March of 2010, several months after the company purchased mobile advertising firm Quattro Wireless. Apple CEO Steve Jobs touted iAd as a better way to engage with customers, combining "the emotion of video with the interactivity of the Web." The iAd network launched in the U.S. on July 1 of last year and later expanded into Europe and Japan as well, though the iAd Gallery app is currently available in the U.S. only.
But why release an app entirely composed of advertisements? The most obvious possibility is just what the app's name suggests: It's a showcase of existing spots in an attempt to convince more companies and developers to sign on. Whether that's a reflection on the success of iAd or lack thereof is hard to know: Apple hasn't been vocal about its foray into advertising, other than the occasional milestone.
Unquestionably, iAds do feature a higher-quality product than the banners plastered on most sites or the text ads that adorn Google—but they also represent a higher upfront cost for companies, and that means more investment for them to recoup. Apple's aim with iAd Gallery may just be to show all that extra cost is worth it when it comes viewer engagement.