The iPad is a beautiful and useful device, but it sometimes gets shoved to the side when users are busy working on desktop computers—or even engaging in non-digital tasks. A new app makes productive use of the downtime, turning your tablet into a digital desk clock.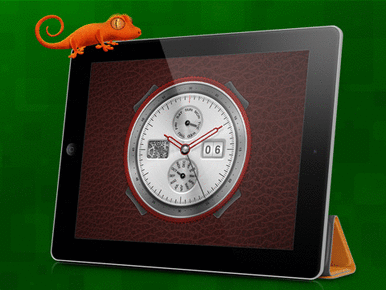 Vladstudio Desk Clock HD debuted last week in the App Store. The free download comes with seven different "wallpaper clock" options; for $1 more, users can upgrade to access the full app with more than 100 options. They range from old-fashioned wind-up watch faces to less-traditional digital landscapes that include the time among depictions of cats, whales, musical instruments, and other comforting images.
The app works in either portrait or landscape mode; users can choose whether they want to actually hear the seconds ticking away—an item that might appeal to older users who remember that clocks once made real "tick-tock" sounds, whether you wanted them to or not.
Vladstudio Desk Clock HD is compatible with iPads running iOS 4.2 or later.