Professional audio equipment manufacturer Harman has released Powered by Crown, an iOS app that can control its ethernet-based line of Crown amplifiers from an iOS device.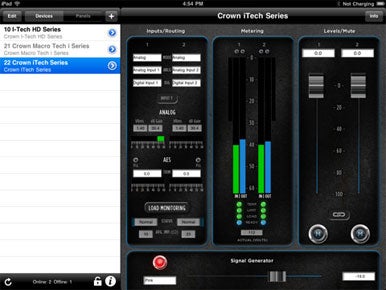 The app is compatible with Crown and JBL digital audio systems that operate over an ethernet connection; it can be used to perform a variety of tasks, like equalizing the sound, verifying output levels, and even monitoring the waveforms produced by an amplifier in realtime.
In addition, Powered by Crown supports an unlimited number of audio systems, as long as they are all connected to the same network. Users can also create custom control interfaces using Harman's System Architect software that can be synchronized to Powered by Crown through iTunes.
According to a press release, supporting iOS is part of the company's long term strategy of employing IP networking technology to allow a variety of audio systems communicate with each other through its proprietary HiQnet protocol, which Harman touts as "the world's first connectivity and control protocol that integrates all product categories in the signal chain for professional audio systems of all types, size, and applications."
In March, Pioneer introduced a new line of Apple-focused consumer A/V receivers that can also take advantage of iOS device control.
The Powered by Crown app is compatible with an iPad, iPhone, or iPod touch running iOS 3.1.3 or later for $4, and is available now.