Editor's Note: The following article is reprinted from CIO.com. Visit CIO's Macs in the Enterprise page.
Billed as the sporting event unlike any other, the hallowed Masters golf tournament at Augusta, Georgia, is probably more important to middle-aged executives than March Madness is to 20-somethings.
Lots of drama this year. Will Tiger Woods bounce back from his year-long slump? Can one of the up-and-coming young guns grab the most coveted title in golf? Will Lefty ride his win last week to another green jacket?
A chunk of the tournament will be this Thursday and Friday, as players jockey for position into the weekend. But you'll be working—or will you?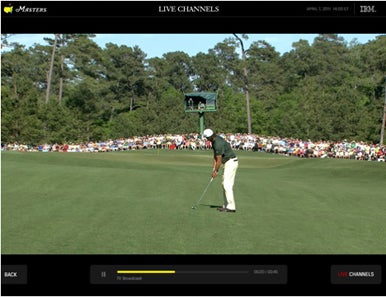 Better download the free The Masters Golf Tournament app for the iPhone before tee off. You'll get extensive news coverage, including real-time scoring, player pairings and tee times, and push alerts. The app also serves up five live video streams, such as tournament play at the famous "Amen Corner" and player interviews.
If you're having trouble picking up the approach shot or just taking in the expansive views of the immaculate golf course on the tiny iPhone screen, then download The Masters Golf Tournament for the iPad ($2). The iPad version adds three video streams, including two channels of featured groups and live highlights from ESPN and CBS.
A few words of warning: Early users of the iPad app are complaining about crashing videos and no sound. But the app works beautifully on my iPad 2, rendering high quality videos, pictures and interactive graphics.
Note: When you purchase something after clicking links in our articles, we may earn a small commission. Read our affiliate link policy for more details.