Friended from NapkinStudio.com aims to redefine the multitouch Facebook experience; rather than simply present a skinned version of Facebook's mobile site for touch screens, the app structures your Facebook data with its own unique approach.
In portrait mode, you get your News Feed on the left (with options to navigate between the Live Feed, status updates, links, and more) and three modules—Recent Pictures, Recent Friends, and Chat—on the right. Recent Pictures unsurprisingly displays photos that your friends have uploaded to the site; tapping on any opens up that friend's recent photos in a popover window. Recent Friends shows the profile photos for buddies who were recently active on the site.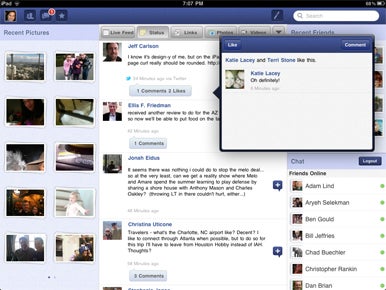 The Chat module shows your friends who are currently available for real-time chat, and the popover interface works well. The notifications you receive when your friend replies in chat could be a bit less subtle—a badge appears in the Chat module, and a brief sound is played—but overall, Friended offers a great chatting experience if you're an iPad-toting Facebook user.
In landscape mode, the News Feed ends up in the center column, with Recent Pictures on the left, and Recent Friends and Chat on the right. Either way, Friended provides a clean presentation that's well thought-out. I do question the usefulness of the Recent Friends module, but it doesn't get in the way.
Button icons across the top of the app offer quick access to friend requests, messages, notifications, and a compose panel for posting new status updates of your own. The app smartly offers easy access to Groups and Pages, too. In short, Friended is very well designed, and manages to feel more like an app than a Web browser—making it a very pleasing way to navigate Facebook.
[ Lex Friedman is a frequent Macworld contributor.]