As regular Macworld readers may know, I'm a big proponent of the paperless office; I even wrote an e-book about it, Take Control of Your Paperless Office . Besides eliminating as many sources of incoming and outgoing paper as I can, I scan pretty much every piece of paper I receive, convert it to searchable PDF format, and then recycle or shred the originals (except when there's some important legal reason to hang onto them). But a few years ago I took an even bigger step, which was switching to paperless postal mail. I pulled this off thanks to a company called Earth Class Mail, which has saved me untold time and effort (not to mention paper clutter).
The concept is straightforward. You sign up for an account, fill out a USPS form granting Earth Class Mail permission to receive mail on your behalf, and then change your mailing address to point to one of its addresses (in any of 19 cities around the country) rather than your home or office. When a piece of mail arrives for you at Earth Class Mail, the company scans the outside of it (or, if it's a large package, takes a picture of the box) and sends you an e-mail notification. You can then log in to the company's secure Website to view this image and request that Earth Class Mail do any of several things:
Open the mail, scan its contents, and make them available as a downloadable PDF file.

Hold the mail for pickup (at certain facilities only).

Recycle or shred the mail.

Forward-ship the mail, with your choice of carriers and delivery types, anywhere in the world.

Electronically deposit any checks found in the mail to your bank account.

Archive the mail in the company's secure facility.
You can manage all these activities using your Web browser. A third party, MS Consulting, LLC, even makes a $10 iPhone app called iClass Mail that offers a subset of these capabilities.
Simplifying your filing
Once Earth Class Mail has scanned a mail piece for you (the outside, the contents, or both), you can view it in a Web browser or download a PDF to your Mac. You can then organize the PDFs along with your other files in the Finder, or perhaps store them in a document manager such as DEVONtechnologies' $150 DEVONthink Professional Office or Bare Bones Software's $39 Yojimbo ( ).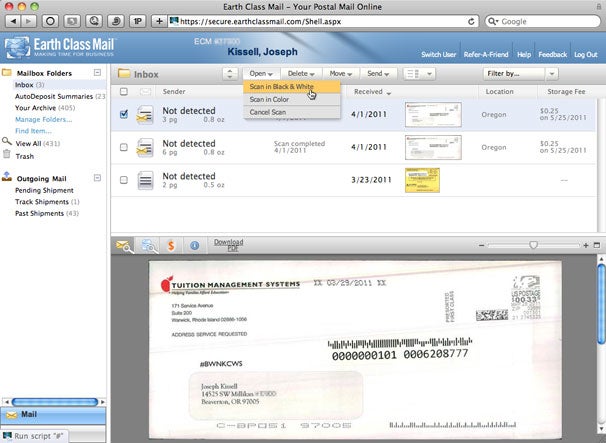 If you think you'll rarely, if ever, need to consult the PDF, you can skip downloading it at all, and instead click a button to save it in your Earth Class Mail Archive folder, where it can remain indefinitely—even if you've shipped the original somewhere else. The downside: this online archive is a single big folder, and isn't searchable.
Easing international mail
I've been using Earth Class Mail for nearly four years. I signed up for the service shortly before moving to France because I felt it would be useful to maintain a mailing address in the United States. For one thing, it lets me buy things online that vendors refuse to ship internationally; the vendor sends it to my address in Beaverton, Oregon, and then Earth Class Mail ships it to me in Paris (giving me yet another chance to contribute to the French economy by paying import duties).
Secondly, having a U.S. street address associated with my credit card enables me to use the U.S. version of the iTunes Store (and, now, the App Store), giving me access to English-language media that would otherwise be available only in French, if at all.
Eliminating paper check hassles
But the reason I chose Earth Class Mail over several competitors was that they promised electronic check deposit service—receive a check in the mail, and after it's scanned, an automated mechanism deposits the money in your bank account without requiring you to mail a physical check (and deposit slip) to your bank. This was important to me because I get paid for much of my writing (including this very article) by check. Depositing U.S. checks in a French bank is somewhat less pleasant, and almost as expensive as, getting a traffic ticket—and mailing a check back to a U.S. bank introduces its own set of complications and delays.
Initially Earth Class Mail's electronic check deposit only worked with Wells Fargo Bank and required a special (and expensive) business account. However, the service now works with any U.S. checking account. Although it takes several days for checks to clear even with the electronic deposits, it's still faster, and considerably easier, than any alternative I've found.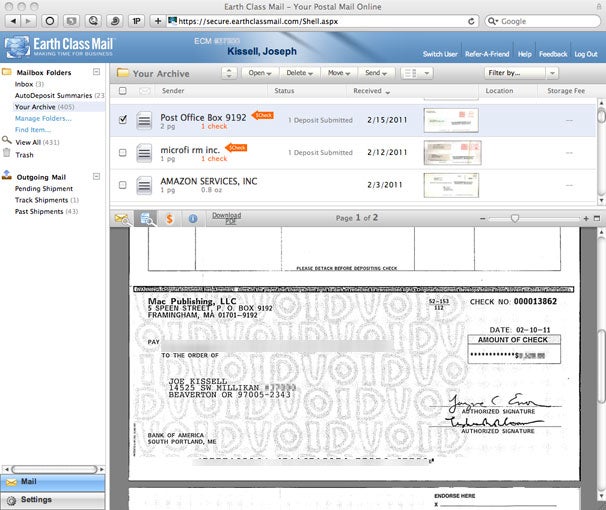 In fact, you can optionally configure your account such that envelopes under a certain weight are automatically opened and scanned; you can also configure the check deposit feature to automatically deposit any checks that are found when a scan is performed. Thanks to that combination of settings, I enjoy what feels like direct deposit of checks from people and companies from whom such a service is unavailable.
Now, a few years later, a number of banks, as well as PayPal, let you scan your own checks or snap a photo with an iPhone app and deposit them electronically. That's great as long as you have an account at the right institution and you can meet their other criteria (such as maximum check amounts), but for those with more-extensive check depositing needs, Earth Class Mail remains the service to beat.
Convenience at a cost
Earth Class Mail can be expensive, depending on which services you use. For standard plans, which handle 100 pieces of mail received per month, the company charges $20 per month, plus a $25 one-time setup fee. Scanning envelope contents is extra ($1.50 per piece for black and white or $2 per piece for color, regardless of the number of pages); if you want searchable PDFs or secure shredding, you'll pay another $5 per month for each service. Check deposits cost $20 each, or $35 per month for unlimited deposits.
A Comprehensive plan, at $40 per month, handles 200 pieces of mail and bundles several other services, including searchable PDFs. Regardless of your plan, mail forwarding costs extra (a per-piece charge plus postage), and the company also charges a monthly fee of $0.25 per letter or $1/pound per parcel for storage over 30 days. Finally, there may be an additional monthly address cost ranging from $3 to $30 depending on whether you prefer a street address or a Post Office box, which city you want the address to be in, and whether that address is for a processing center. (If it's not, you'll have to wait several additional days for mail to move from your mailing address to the processing center to be scanned.)
Earth Class Mail's prices have gone up since I first signed on. And there have also been some hiccups. Still, I've stuck with the service because I haven't found anything else that includes the same range of features at any price.
Other options
If all you need is a service that will accept and scan mail for you (and don't need electronic check deposits), you have many choices. All of the follow services are cheaper than Earth Class Mail, but I haven't tried them personally, so I can't vouch for their quality:
If you look through these sites, you'll see that many mail-scanning and -forwarding services are geared toward people who spend a lot of time on the road or otherwise lack a stable address. Earth Class Mail seems to be a better fit for small businesses (a single account can include multiple mailboxes with different names), especially those that process lots of incoming checks and want to eliminate as much inter-office paper as possible. But it's also a good fit for misfits like me, who have peculiar needs for processing mail and appreciate the paperless aspect too.
Senior contributor Joe Kissell is the senior editor of TidBits and the author of the e-book Take Control of Your Paperless Office .