The $1 Facebook for iPad with Chat—Pica HD re-skins Facebook's mobile touch site, and does so beautifully. The app from Dinh Ba Thanh sports a handful of themes for adjusting Facebook's interface to your liking. Annoyingly, though, the app must reload your entire News Feed when you change to a new theme.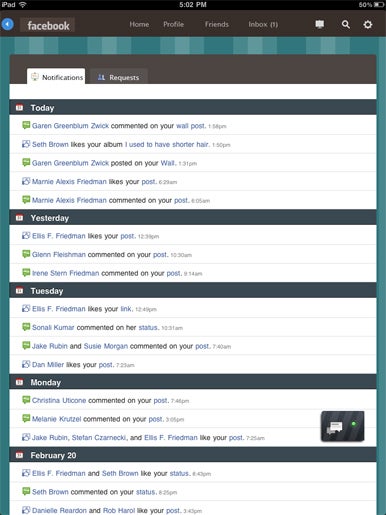 At its core, Pica is a custom Web browser: you're surfing Facebook's touch site, but its visuals have been tweaked extensively—for the better. You can navigate between Home, Profile, Friends, and Inbox, and there are buttons for accessing search and notifications, too. Because Facebook's touch site doesn't yet offer an interface for accessing Groups, though, Pica doesn't either.
Pica's interface for Chat doesn't quite fit in with the rest of the app. Instead, it employs a full-screen Web view taken directly from Facebook's mobile interface, without reflecting your chosen theme. Because of the way Facebook's Web page is designed, you must scroll through your list of available friends with two fingers, instead of the normal one-finger approach. It's doable, but takes some getting used to. Hopping back and forth between Chat and the rest of the app can become tiresome.
Overall, Pica is certainly visually appealing, but is hampered by its reliance on Facebook's limited touch site. If you use and enjoy the touch interface that Facebook offers, Pica will certainly make it more lovely.
[ Lex Friedman is a frequent Macworld contributor.]