After a brief hiatus, we're back with a double dose of new cases to protect, power up, and even gussy up your iPhone 4. Here's this week's iPhone 4 case roundup.
Accessory Geeks
If you're looking for a case that provides protection and environmental consciousness, Accessory Geeks is offering the TPhone Eco-Design line, a series of hardwood cases that range from a $15 teak brown model up to the $20 for most of the other models, including a jack fruit wood edition. The case slides on to the phone, and the company says the case is accompanied by a "natural wood scent"—like a pine tree freshener for your phone.
BaseOneLabs
If you're less interested in aesthetics and more concerned about, say, dropping your phone off a bridge, the $25 Impactband from BaseOneLabs might be more your speed. This fitted, silicone-style bumper wraps around the edges of the phone, providing a raised lip that prevents either the front or back from making direct contact with the ground in the event of a fall. The band comes in eight colors.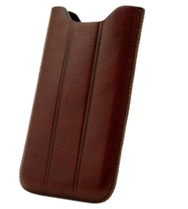 Bella
Bella's line of leather cases provides a classy way of keeping your phone scratch-free amongst the keys and coins in your wallet or purse. The $44 Stella Functional flips open for easy use, while the $27 SlimFit and the $35 Venetian, Premium Elegant, and Carina Suede models each take the form of a slim, snug pouch like one you might use to hold your eyeglasses.
Concord Keystone
Some cases do more than protect your phone—the $80 Keystone ECO AmigoCase is a rechargeable battery pack with built-in clip. The power pack doubles the battery life of your iPhone and it comes with a separate protective cover. (The phone slips out of the battery pack when you're making calls or sending e-mails.) The AmigoCase comes in four colors, and is available for immediate shipping.
DC Cases
DC Cases makes protective, handmade leather coverings for a variety of Apple products, and its newest offerings are the SRS Slide Stitch and the SRS Slide S, available in six or three colors, respectively. The company hasn't provided information on cost or availability.
De Bethune
Nobody wears watches anymore—that's what mobile phones are for, right?—but a nice pocket watch can still convey elegance and taste. De Bethune is pitching its new DBM case at "modern-day dandies," and it's easy to see why. The leather phone case comes with a silver-toned fob watch attached to the back, giving the case the appearance of an iPhone case your great-grandfather might have carried while commanding a whaling ship in the Atlantic. The company hasn't yet provided pricing information, but says the case can be set with gems or otherwise customized in De Bethune's workshops.
H2O Audio
There's not often a need to use your iPhone 12 feet underwater, but if you're one of the exceptions to that rule, the $50 Amphibx Go waterproof case might be what you're looking for. (The case is also billed as "sweat-proof," which makes it a bit more appealing to the on-dry-land folks.) The Amphibx Go features a "ClearTouch" pouch that allows for full use of the phone's screen in extreme conditions. A D-ring loop makes this case better for attaching to a bag or belt buckle than sliding into one's pocket, however.
Griffin Technology
This long-time accessory maker likes to provide its customers with plenty of options, and it's doing so again with its new line of $30 Threadless cases for the iPhone 4. The one-piece shells offer protection, sure, but the focus here is on design, with nearly three dozen hipster-influenced options to choose from for the entirety of the iPhone and iPod touch lines. My favorite entries for the iPhone 4 include the The Communist Party by designer Tom Burns and Technicolor Rex by Elisha Hale.
Incase
Andy Warhol said everybody would someday be famous for 15 minutes, but he's been dead more than 20 years and his work still attracts admirers. Now his designs adorn a new line of Apple accessories from Incase. Among the offerings are $50 hardshell snap cases for the iPhone 4 featuring some of Warhol's most famous works.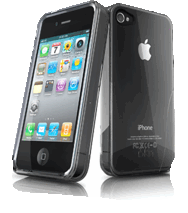 iSkin
If you want to protect your iPhone 4, but still want to leave no doubt that you're carrying around an iPhone 4, iSkin's new Claro case could do the trick. The clear, rigid-plastic shell shows off the distinctive shape of your device and even features an integrated camera ring that cuts down on the flash glare common to clear cases. The Claro costs $35.
MoonSkins
If, on the other hand, your problem with most iPhone 4 cases is that they too easily blend into the scenery, forcing a frantic search, then MoonSkins might have your solution. The company's line of flourescent cases draws the eye and offers protection against hard bumps. MoonSkins costs $30 apiece and are available for immediate shipping.
Nelson Technologies
This Dallas-based company has unveiled the Fusion for iPhone 4, an ultra-thin case that also offers backup battery power for up to 42 hours of additional audio playblack, or seven hours of talk time on a 3G network. The $80 device is available now.
Skech
This Southern California accessory company has four new cases for the iPhone 4. The Hard Rubber is exactly what it sounds like—a two-piece polycarbonite case that provides full-body protection. The Rise is similar, but offers a two-tone color scheme to snazz things up. The Custom Jacket also gives you a polycarbonate shell, but it encases that shell in a fabric exterior that offers a softer touch and appearance. The Custom Jacket Flip does the same, but adds a magazine-style flipcover to protect your phone's screen. Teh company hasn't provided details on pricing or availability.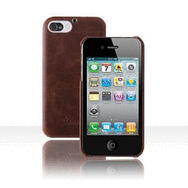 Zenus
Zenus has a line of 14 cases for the iPhone, ranging from the $25 Masstige to the $60 Vintage Brown. Each is molded specifically for, and snaps onto, the phone's backside, preventing scratches while leaving easy access to the devices' buttons, headphone jack, and camera lens. The main differences are in the colors and materials, with synthetic-leather options at the lower end of the price range and Candy Pink varieties closer to the top.