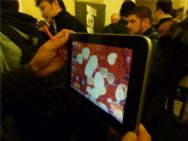 Lenovo, Motorola and Dell are preparing to launch tablets in China. But can the Happy Pad outsell Apple's iPad?
Chinese PC maker Lenovo, which makes the "LePad," hopes so. The name translates to "Happy Pad" from Chinese to English, and it is just one of several tablets taking aim at Apple as China's tablet market gets more crowded.
U.S.-based companies Motorola and Dell are also planning to launch tablets in China within the coming months. Motorola said it will release its Xoom tablet before the end of June, while Dell has said it will launch its 5-inch Streak tablet in China later this month.
Lenovo launched the LePad tablet at the end of last month. The Android-based tablet is available for purchase online and is gradually appearing in retail outlets.
Apple dominates the tablet market in China, although it has not announced when its second-generation iPad will be available in the country. The company has a 78 percent share over the market, according to Sun Peilin, an analyst with Beijing-based research firm Analysys International. The remaining 22 percent belongs to Samsung and other tablet producers.
"Apple's advantage is that they have the brand recognition," sad Sun." When people think about buying a tablet, they automatically think about the iPad."
In China, tablet sales reached about 600,000 units last year, according to estimates from Analysys. But that number is expected to rise to 4.5 million units this year.
Apple also dominates the tablet market worldwide, with a 73 percent market share, according to research firm IDC.
Analysts have said Lenovo's advantage over the competition includes its well-known brand name in China along with its far-reaching distribution network. Lenovo is currently the top PC seller in China and plans on making its LePad available in 5,000 stores in 400 cities across China this month.
In contrast, Apple has less reach, according to analysts. The company has a total of four Apple stores in Beijing and Shanghai, but also has a Chinese Website from which orders can be made as well as from authorized resellers.
"Apple, as far as its retail presence, is much more limited, but that hasn't stopped it," said Bryan Ma, an associate vice president with IDC. "Even if Lenovo has a very deep channel down to the lower tier cities of China, are those the real users of these tablets? Or are they the young professionals in the large cities of China?"
Due to its popularity among consumers, Apple will continue to dominate China's tablet market, even with the competition, Ma added. But it doesn't mean rivals like Lenovo won't be able to make waves of their own.
"One thing that I've noticed is that with the LePad, the name itself sounds like a poor French rendition," Ma said. "But in Chinese, the name sounds pretty good. It's not a bad brand name, and it could give it some legs."