According to a Microsoft blog entry, Office for Mac 2011 Service Pack 1 (SP1) will arrive next week. It features "improved Outlook syncing support"—but with a big caveat.
Prior to the release of Office for Mac 2011, Microsoft's productivity suite shipped with Entourage rather than Outlook. Entourage's Calendar function was capable of syncing with iCal and MobileMe.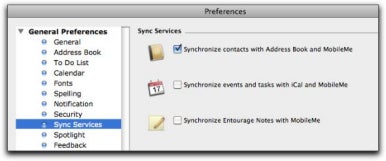 The syncing worked, but not always well. Most notably, as I can personally attest, there were frequent problems with duplicate entries. Perhaps that's why, when Microsoft released Office for Mac 2011 last fall, it omitted calendar syncing from Outlook. Only Contact syncing was maintained.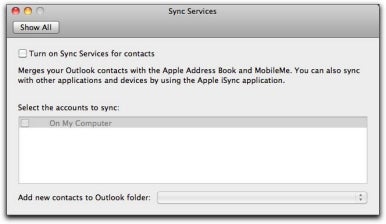 This is about to change. The Microsoft blog states that Office for Mac 2011 SP1 "will let you sync your Outlook calendar… with any service or device that supports Sync Services, including your iPhone and iPad."
Unfortunately, Apple has abandoned SyncServices for MobileMe Calendar—shifting to CalDAV instead: "On May 5, 2011, MobileMe will transition to the new Calendar service. You must upgrade to the new Calendar to maintain calendar syncing between your devices and to continue accessing your calendar at me.com." This presents an obvious problem for the Outlook update. As the Microsoft blog acknowledges: "If you sync your iPhone or iPad calendars with MobileMe, they will NOT be synced to your Outlook 2011 SP1 calendar."
In other words, Microsoft is adding support for calendar syncing via an update that is already incompatible with Apple's latest MobileMe software. This has to be at least a bit embarrassing for Microsoft. It's like finally adding Snow Leopard support for a product after Mac OS X Lion is already shipping.
The Microsoft blog attempts to make the best of the situation. It blames Apple for the "broken link between MobileMe and Sync Services," adding a hope that "Apple's changes will not impact very many of you." In the next breath, the blog adds that the new Outlook update will also not sync with Google (and other) calendars. The blog concludes with a vague suggestion that such support might come in "potential future updates."
Such support is already available in at least one other third-party product: BusyCal. So you know it is possible to do. As such, I find it disappointing that, more than five months since the release of Office for Mac 2011, Microsoft could not do any better—especially for what Microsoft admits "has been one of our top feature requests."
On a related note: Will the new update add back other Entourage features that were dropped in Outlook, such as Redirect and Resend? We'll find out next week.
Office for Mac Home and Business 2011