In a radical departure from its traditional 18-month upgrade cycle, Adobe has announced Creative Suite 5.5, a new mid-cycle update of its major creative applications. Substantial upgrades to InDesign, Dreamweaver, Flash Professional, Premiere Pro, and After Effects accompany a new SDK for Photoshop CS5.
This signals a new strategy for Adobe, which at once lengthens the cycle of milestone releases from 18 months to 24 months, and introduces mid-cycle releases every 12 months for selected programs and suites. Which programs will be upgraded in the mid-cycle will vary depending on perceived customer need and the state of technical innovation.
The new versions of Adobe's creative programs, which will ship within 30 days, reflect the full-scale integration of tablet authoring into the creative workflow. This is in response to the transition away from paper-based publications to editorial and artistic content that is created and consumed on electronic devices such as smart phones and tablets. The proliferation of mobile apps, browser content, and digital magazines has inspired the company's accelerated concentration on HTML 5, video, mobile, and digital publishing tools.
With the new schedule comes a new pricing plan: Adobe's new Subscription Editions program is designed to make its creative tools more affordable to the artists and designers who need them and to give new users—and those who need the software only for specific projects—more opportunities to work with the apps.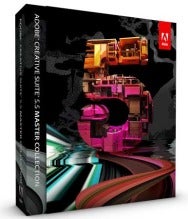 The complete mid-cycle lineup now features Creative Suite 5.5 Master Collection, Creative Suite 5.5 Design Premium, Creative Suite 5.5 Web Premium, Creative Suite 5.5 Production Premium, and Creative Suite 5.5 Design Standard. Subscription pricing is also available for the following individual applications: After Effects, Dreamweaver, Flash Professional, Illustrator, InDesign, Photoshop, Photoshop Extended, and Premiere Pro.
"We decided to change our Creative Suite release schedules, starting with CS5.5, to help our customers overcome the challenges they've been having with the wave of new mobile devices coming to market," Dave Burkett, vice president and general manager of Adobe Creative Suite, told Macworld. "We believe that adding mid-cycle releases in between our milestone releases, which will now happen every two years, will help our customers keep ahead of the market trends."
Design Premium
The new Creative Suite 5.5 Design Premium package offers new versions of InDesign, Dreamweaver, Flash Professional, and Flash Catalyst, along with current versions of Acrobat X Pro, Illustrator, Photoshop Extended, and Fireworks. A new version of the Design Standard suite (which includes Photoshop, Illustrator, InDesign, and Acrobat) will also be available.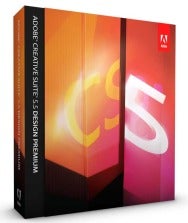 Integrated into InDesign CS5.5 is the new Folio Producer that publishers can use to enhance tablet-based designs with rich media and interactivity for producing digital magazines, newspapers, corporate publications, e-books, and advertising. Documents can include video, audio, panoramic views, 360-degree object rotation, image pan and zoom, integration of HTML and HTML 5 content, and more. InDesign CS5.5 works in concert with Adobe's Digital Publishing Suite, which supports creation, publication, sale, and analysis of content on a range of tablets, including Apple's iPad. The enterprise version of the Digital Publishing Suite is available now.
A number of features in InDesign have also been enhanced to improve reading experiences on e-book devices, such as Barnes and Noble Nook, Sony Reader, and Apple iPad. Designers can now add refined typography, images that resize automatically to fit various screen sizes, and video and audio for e-book reader applications that support HTML 5 video and audio tags.
With the CS5.5 version of the Design Premium, users can also create Websites based on HTML 5 and CSS3 and interactive mobile applications built with Flash tools. Updates to Dreamweaver CS5.5—which include the Live View mode, CSS panel, and a Multiscreen Preview panel—act to streamline the design of Websites that require optimization for viewing on multiple devices, and let designers preview desktop, tablet, and smart phone browsers side-by-side.
With CS5.5 Adobe has also introduced the Photoshop Touch Software Development Kit (SDK) that integrates tablet development into the traditional design workflow. The new SDK lets developers build tablet applications that interact with Photoshop from a variety of devices including iOS, Android, and BlackBerry PlayBook. Accompanying the new SDK are three new iPad applications: Adobe Color Lava for Photoshop; Adobe Eazel for Photoshop; and Adobe Nav for Photoshop. These demonstrate the creative possibilities of using tablets for Photoshop workflows.
Subscription pricing for the Creative Suite 5.5 Design Premium is $95 per month, while subscriptions to Creative Suite 5.5 Design Standard are $65 per month.
Web Premium
The CS5.5 version of the Web Premium package includes updated versions of Dreamweaver, Flash Professional, Flash Catalyst, Flash Builder, Device Central, a new Flex framework for mobile devices (due out in June for iOS), and Acrobat X Pro. With this version, designers and developers can construct mobile applications for a range of devices and operating systems including iOS, Android, and BlackBerry.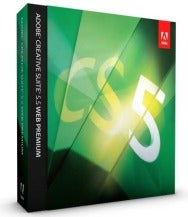 New HTML 5 support in Dreamweaver CS5.5 includes jQuery mobile framework integration for browser-based content and PhoneGap integration for native and mobile application design and development. The enhancements to Dreamweaver's multiscreen preview panel support the latest media queries, WebKit engine updates, and CSS3 attributes. This lets developers view side-by-side renderings of a single design on different devices.
The update features new tablet and smartphone application development capabilities in Flash Professional and Flash Builder Premium 4.5, enhanced cross-browser testing capabilities, and mobile emulation and on-device debugging.
Enhancements to Flash Professional CS5.5 include content scaling so users can resize their content on the stage to accommodate different screen sizes. It also includes a new shared assets feature that simplifies the creation and management of multiple FLA files created for a single project but targeting different devices, and more than 20 new code snippets for creating mobile and Adobe AIR applications for accelerometer, multitouch gestures, and save/load data.
In the updated Flash Builder 4.5, users get new mobile support for ActionScript and mobile Flex projects. There is also improved designer-developer collaboration throughout application development with a new bi-directional workflow between Flash Catalyst CS5.5 and Flash Professional CS5.5.
Improvements to Flash Builder, Flash Professional, and the new Flex 4.5 framework for mobile devices, will let designers and developers build mobile applications that run on iPhone, iPad, Android devices, and BlackBerry PlayBook. These can be deployed through the Apple's iTunes Store, the Android Market, and BlackBerry App World.
Web Premium CS5.5 includes new HTML 5 emulation and support for the latest mobile devices in Adobe Device Central, software to simplify the production of content for mobile phones and consumer electronics devices. Adobe's online service, BrowserLab, has also been updated for testing with the latest browsers, Adobe says.
Subscription pricing for Adobe Web Premium CS5.5 is $89 per month.
Production Premium
Adobe's CS5.5 Production Premium update features new versions of Premiere Pro, After Effects, Adobe Flash Professional, Flash Catalyst, Adobe Story, Media Encoder, and Device Central. New to Creative Suite 5.5 is Adobe Audition CS5.5, which brings audio-for-video multitrack editing to both platforms.
Upgrades to Adobe's Production Premium, geared toward filmmakers, broadcasters, and video pros, feature innovations to Adobe's Mercury Playback Engine. The Mercury Playback Engine, introduced in Adobe Premiere Pro CS5, has broader graphics processing unit (GPU) hardware support that includes laptops and additional cards (for Windows), and allows users to open projects faster, get real-time feedback for more GPU-accelerated features, and work more smoothly at 4k and higher resolutions, the company says. However, there are no additional Nvidia cards for Mac Pros and Mac notebooks do not use Nvidia cards.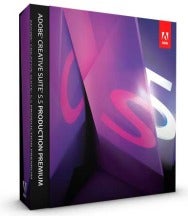 Dual-system sound support from Premiere Pro's new Merge Clips command lets users sync video with high-quality audio recorded on separate devices like location recorders—good for DSLR or RED workflows. New trimming and editing tools provide more precision and control. An integrated workflow lets Premiere Pro users send individual clips or sequences, including reference videos, directly to Audition for audio editing and restoration.
The new version also offers enhanced support for RED and other tapeless cameras, including an improved RED Source Settings dialog in Premiere Pro and After Effects CS5.5, and native support for up to 5k media from RED Epic cameras via an extension available on Adobe Labs. Because it provides a native editing environment, there's no need to transcode or rewrap footage.
The new 64-bit Adobe Media Encoder CS5.5 has been redesigned to deliver Premiere Pro video sequences, After Effects compositions, and Encore projects to multiple screen formats, while encoding in the background. The new version of Media Encoder also introduces new format support such as AVC-Intra and DPX, and watch folders so users can encode a single clip to multiple destinations via drag and drop.
After Effects CS5.5 introduces new features such as the Warp Stabilizer, Camera Lens Blur, and Light Falloff that let users enhance footage in post-production. The Warp Stabilizer eliminates unwanted camera movement by steadying shaky footage and makes handheld footage appear as smooth as a camera mounted on a mechanical stabilizer, Adobe says. The Camera Lens Blur effect mimics the properties of physical lenses, offering more realistic depth of field blurs. The Light Falloff effect lets users simulate natural illumination falloff to simulate how light behaves in a 3D scene and other light intensity effects.
Adobe Audition, which will emerge from beta on the Mac when CS5.5 ships, features a re-written audio engine that offers a toolset to record, edit, mix, master, and sweeten audio. With its professional editing and multitrack mixing tools, noise reduction, and effects options, audio and video professionals can now handle a wide range of tasks.
This new version offers enhanced project exchange support for Final Cut Pro ( ) users providing additional flexibility for video editors, while new or enhanced Open Media Framework (OMF) support in Premiere Pro and Audition lets users export high-quality audio projects to Avid Pro Tools, facilitating better collaboration between audio editors, remixers, and sound designers.
Access to the new version of Adobe Story, the screen writing app that is part of the Adobe CS Live online services, improves collaboration between users by adding email notifications of new script edits and a faster method of tracking changes through script elements and filters. The ability to import Adobe Story script data directly into Adobe Premiere Pro further strengthens XML-based metadata support throughout the Production Premium suite, which is critical for everything from file-based workflows to media asset management.
Subscription pricing of Premiere Pro CS5.5 is $39 per month while subscription pricing of Adobe Production Premium CS5.5 is $85 per month.
Pricing and availablilty
The upgraded Adobe CS5.5 products are scheduled to ship within 30 days, and will be availabile via Adobe Authorized Resellers, the Adobe Store in North America, and Adobe Direct Sales.
Prices are $2599 for the CS5.5 Master Collection, $1899 for the CS5.5 Design Premium, $1799 for the CS5.5 Web Premium, $1699 for the CS5.5 Production Premium, and $1299 for CS5.5 Design Standard. Upgrade pricing and volume licensing are available.
In addition, prices are $699 for Photoshop, $999 for Photoshop Extended, $249 for Flash Builder 4.5 Standard, $699 for Flash Builder 4.5 Premium, $399 for Flash Catalyst, and $699 for Flash Professional. Flash Builder 4.5 Premium is also included in Adobe Creative Suite 5.5 Web Premium and Master Collection. Flex 4.5 is a free open source framework and will be available for the Mac in June.
Creative Suite subscribers can choose a one-year subscription plan for lower payments or a month-to-month subscription for greater flexibility. Users can purchase programs individually or via subscription.
Education pricing for students, faculty and staff in K-12 and higher education is available from Adobe Authorized Education Resellers and the Adobe Education Store. There's also more information regarding education volume licensing for higher education and K-12 institutions on Adobe's Website.