While Adobe software engineers were hard at work pushing out brand new mid-cycle upgrades of Creative Suite applications, the folks on the business side were trying to figure out a way to make purchasing those professional applications more flexible and affordable for its target audience of artists and designers.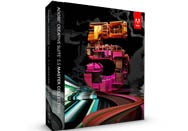 Adobe's new Subscription Editions, a concept that the company has been considering for quite a while, has been implemented in conjunction with the launch of Creative Suite 5.5.
Adobe has debuted what it hopes is a viable subscription-based pricing plan that will be attractive to customers who want to stay current on Creative Suite products, have only specific, project-based needs, or who want to try the software for the first time. It's also a way for users to move up to a suite from an individual product and accommodate corporate staffing fluctuations.
New Subscription Editions ensure customers are always working with the most up-to-date versions of the software without the upfront cost of full pricing. With subscription pricing, customers can use flagship products such as Photoshop for $35 per month, the Design Premium for $95 per month, or the Master Collection for $129 per month, for example.
One-year plans have lower monthly payments, but require a 12-month commitment. Month-to-month plans allow you to stop and start as business needs change. Customers are billed monthly regardless of the plan they choose.
All aspects of the plan are handled via Adobe.com. Customers go to the Web site to choose their products, plan, and delivery method (electronic download with or without a backup DVD). After entering billing information and agreeing to terms, the subscription starts.
Customers get an email with a serial number and link to download the software. Every 30 days, Adobe checks the status of the subscription. If the customer's credit card is valid, Adobe charges it and customer gets 30 additional days to access the software, along with a monthly receipt. If Adobe can't charge the card or the subscription was cancelled, the customer gets a 5-day grace period, otherwise access to software will end.
Not all software is available for subscription purchase, but all of the major suite bundles are (see chart below for details). All are scheduled to ship within 30 days. The software will be available through Adobe Authorized Resellers, the Adobe Store in North America, and Adobe Direct Sales.
Upgrade pricing and volume licensing are available. More information about Subscription Editions is available on Adobe's Website. Education pricing for students, faculty and staff in K-12 and higher education is available from Adobe Authorized Education Resellers and the Adobe Education Store.
Here's the current lineup of available subscriptions.
Adobe Creative Suite 5.5 Bundle and Application Pricing
| | One Year (price per month) | Month to Month (price per month) |
| --- | --- | --- |
| | | |
| | | |
| Design Standard | $65 | $99 |
| Design Premium | $95 | $139 |
| Web Premium | $89 | $135 |
| Production Premium | $85 | $129 |
| Master Collection | $129 | $195 |
| After Effects | $49 | $75 |
| Dreamweaver | $19 | $29 |
| Flash Professional | $35 | $49 |
| Illustrator | $29 | $45 |
| InDesign | $35 | $49 |
| Photoshop | $35 | $49 |
| Photoshop Extended | $49 | $75 |
| Premiere Pro | $39 | $59 |