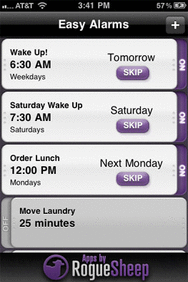 A new alarm application for the iPhone gives users new options for choosing how to sleep in or even skip the occasional reminder.
Easy Alarms, an offering from developer Rogue Sheep, debuted Thursday in the App Store. The ad-supported app features many of the same functions of the iPhone's native alarm clock, but with two major twists. First, users have more flexibility choosing how much time they get when they push the Snooze button, with options ranging from one minute to one hour. Second, users can choose to skip a recurring alarm without having to turn it off and remember later to turn it back on.
Other features in Easy Alarms include the ability to schedule a reminder for a specific calendar date, as well as an in-app timer to remind you (for example) when your soufflé or laundry are done. Alarms sound even when the app is running in the background, though users will only see a visual notification when the phone is on mute.
Easy Alarms is free, and compatible with devices running iOS 4.0 or later.