If music is an essential part of your workout, then either iWorkout Muse or iWorkout Muse Pro should become part of your exercise regimen. Both apps from Workout Muse give you the ability to create a custom interval workout mixed with your own music on your iPhone, iPod touch, or iPad (though the apps aren't optimized for that last device).
My favorite thing about the $6 Pro offering is that you can create up to 25 interval custom workouts with up to 25 iPod-created playlists. The $3 iWorkout Muse still gives you options, but there are limitations: You have just one custom workout with fewer options during the actual workout. (Workout Muse says it built the Pro app in response to customer requests for more features.)
With the Pro app, your set workout has a work period; rest period; total rounds; transition period; your duration based on the previous periods; total cycles; total duration; and your selected music playlist.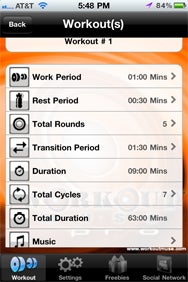 Once you've set up a workout, tap the green start button. During your workout the app lets you know what stage of your workout you are in and counts down the time in the cycle. Before your workout starts you hear, "Crank it in 5, 4, 3, 2, 1 … Go …"
During the workout, you can skip to the next song on a playlist or jump back to a song. You can also shuffle songs. Pro users can also opt for pre- and post-workout options, which can be set to playlists and intervals.
The Pro app features a pair of tabs not available in iWorkout Muse—Freebies and Social Network. Submit your e-mail address in the Freebies section to receive tips and free offers. (I was able to download a free workout and soundtrack of the month, for example.) In the Social Network tab, you can post real-time updates about your workout on Facebook or Twitter—those updates can include what song is playing.
No matter what version of iWorkout Muse you pick, the apps' settings give you the option to play music during your workout but not during rest periods, or play it a lower volume during rests. You're also able to play selected music with instructions on where you are at in the workout and when to start and stop. iWorkout Muse Pro lets you set vibrations or sounds to let you know when to go and stop; you can also adjust volume for instructions and music and pick a female or male voice for the instructions.
It takes a little bit of effort to set up interval timing, particularly in the Pro version with its wider number of options. But iWorkout Muse's approach is well-documented and a cool addition to your exercise program.
[Ann Chihak Poff writes a health and fitness blog, Go Fit Girl.]