There's one huge strength and one huge weakness to BotmHD, TheBrowser.com's free "best of the moment" iPad app that aggregates top-notch long-form online journalism into a single reader.
The strength is in the content selection. Each day, editors select five to ten pieces of online nonfiction—from magazines, journals, blogs, and even video sources—and collect them for easy viewing within the app. There's a nicely eclectic range of topics: A recent day brought forth pieces on cartooning, the rebellion in Libya, and life on death row. If you have a few hours to curl up with your iPad every evening, BotmHD makes a great general interest magazine that constantly renews itself with fresh content.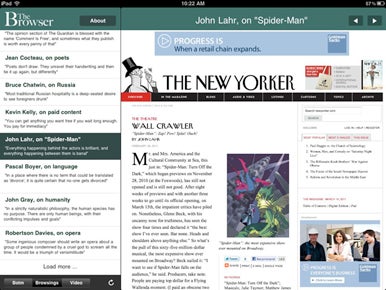 In fact, there are so many interesting stories and essays collected in BotmHD that it's impossible to keep up. That sounds like praise, but it highlights a real problem with the app—there's no way to save stories that you really want to read but don't have time for right now. The app doesn't offer any option for bookmarking content within BotmHD, and it doesn't let you save stories to Instapaper or Read It Later; you can't even e-mail a link to yourself. If you get halfway through a story, you're also out of luck: the app doesn't save your place when you return later. Needless to say, there's simply no way to do offline reading.
That severely limits BotmHD's usefulness. If you like the content BotmHD is serving up, you're better off using the iPad's browser to surf to TheBrowser.com—all the same content is collected there, in a format that's much easier to save and share.
[Joel Mathis is a freelance journalist and political columnist for Scripps Howard News Service. He lives in Philadelphia.]