Give the folks who came up with The Atavist app some credit: they aren't just attempting to create a new model for long-form storytelling—they're utilizing every trick available to them on the iPad.
The app from Atavist is a free download. After installing it, you can choose from The Atavist's still-limited selection of stories—about the same length as a long magazine article—and make an in-app purchase for $3. (Half the purchase price goes directly to the writer.) After that, it's time to be dazzled.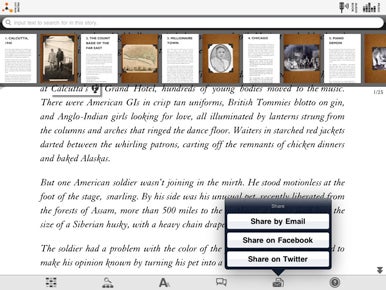 It's not just that the writing is good, although it is. But The Atavist has an array of multimedia tricks up its sleeve to keep you engaged. One story, "Piano Demon" plays an album-length soundtrack of music by the story's subject, Chicago jazzman Teddy Weatherford, while you read. (This feature can be turned off.) If your eyes are tired or you're otherwise engaged, you can listen to an audio version of the story—read by a human, not a computer like on Amazon's Kindle—and return to the printed text at any spot you choose.
There are other Web-informed features: timelines, location links to Google Maps, the option to leave comments or to share stories via e-mail or social networks. This is the rare storytelling app that feels like it was built from the ground up for a digital environment. If it's another case of old media being shoehorned into a new format, it's not readily apparent.
The Atavist has one shortcoming: As of this writing, there are only two stories available in the app, with the promise of monthly additions to come. There is, however, a great deal of promise here.
[Joel Mathis is a freelance journalist and political columnist for Scripps Howard News Service. He lives in Philadelphia.]