Need proof we're living in a literary golden age? Narrative, a free app from Narrative Magazine, might be all the evidence you need. Top-notch essays, stories, poems, cartoons, and more are contained within—at no cost to the reader. What more could an iPhone-or-iPad-owning bibliophile ask for?
Just a little more, actually.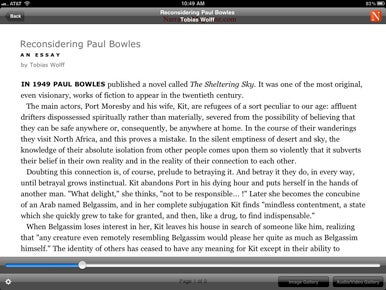 Narrative's content is great, with contributions from writers such Sherman Alexie, Tobias Wolff, and William Carlos Williams. But the user interface is inelegant and unwelcoming—particularly on the iPad. The app presents its contents in a straightforward, unsightly list of titles that give little clue to topics contained therein.
There's also no way to share a story with friends via e-mail or social networks. That's an odd omission—since non-profit Narrative provides its content for free (though reader registration is required, and its writers are paid). You'd think that easy sharing would draw in a larger audience.
The app has its strengths, though. You can download content and read it offline; you can also tweak the settings on page displays to suit your reading comfort.
The app's overall clunkiness, however, is somewhat mystifying, since Narrative Magazine exists only in the digital realm on its Website, Kindle, and iOS. Despite this, the app feels like the product of print sensibilities crammed onto a tablet.
Narrative's content quality, however, is deep enough to override those other concerns. The app is a real treasure for lit lovers.
[Joel Mathis is a freelance journalist and political columnist for Scripps Howard News Service. He lives in Philadelphia.]