Storyville is a nice little app from Fatty Apps that's optimized for the iPhone and iPad. It won't dazzle you technically, but Storyville does one thing very well—it provides a good read. A new story is published to the app once a week—a real boon to literature lovers.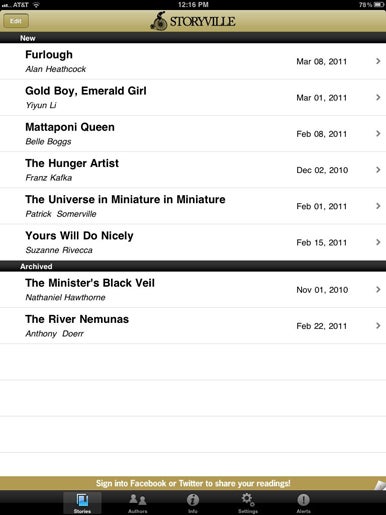 The app, which costs $5 for every six months of use, is unlike many other lit-oriented apps in that it exists entirely on mobile devices. There is no Website or magazine associated with Storyville. Yet, it still draws new work from both independent presses and established publishers, with authors like Ben Greenman, Anthony Doerr, and more.
Some lit apps throw text at you and offer little else. Storyville at least lets readers share news of a good story via e-mail, Facebook or Twitter. And the settings can be tweaked so that the font, lighting, and text-size provide users with the most-comfortable reading experience possible.
But you won't buy Storyville because you want to see holograms or lasers or any neat iOS tricks. You'll buy it because you want to read good writing. On that front, Storyville delivers a great experience that is well worth the price of admission.
[Joel Mathis is a freelance journalist and political columnist for Scripps Howard News Service. He lives in Philadelphia.]