We've talked a bit about streaming music services here in recent times. My colleague Christopher Breen wrote about four streaming music services, and senior editor Jonathan Seff more recently wrote about his experience using Napster. And back in 2009, I wondered if Spotify is the future of music listening.
All of the above services take a generalist approach, offering music in a wide variety of genres, and tending to lean toward popular music. But there's another streaming service, which has been quietly offering huge quantities of classic music for several years: the Naxos Music Library. Naxos is a classical label and distributor of many other labels around the world. The Naxos Music Library features all of the recordings available from Naxos (some 3000 discs), in addition to music from more than 300 other independent classical labels, including Bis, Berlin Classics, CPO, Haenssler, Hungarotron, Naive, and Nimbus. The scope of the Naxos Music Library is mind-boggling for something specilizing in such a genre: it currently claims to offer 51,825 CDs with more than 744,837 tracks, and adds 800 new CDs per month (although mostly classical, you'll find some assorted jazz, world, and other music).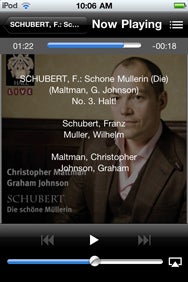 Like most streaming services, the Naxos Music Library uses a Flash-based player. You start by searching on the Website, or viewing a list of new releases if you want to see the latest recordings. Click on a link to view the contents of an album, then choose the tracks you want to hear. You can listen to individual tracks, or you can select a full work with a single click. You can also make up playlists of music from different recordings or of albums that you want to sample later. If you wish to purchase downloads of the music, links on the different pages take you to Naxos' ClassicsOnline Website where you can do so. (You don't get any free monthly downloads with your subscription, as with some other subscription services.)
The Naxos Music Library is not really designed for casual listeners—its main focus is institutions, such as universities and music schools—and its price reflects that. Individuals pay either $225 a year for a high-bandwidth version (128 kbps) or $150 a year for a low-bandwidth version (64 kbps), or you can opt to pay $25 or $15 a month, respectively.
The music, streaming at 128 kbps, generally sounds good enough on the sound system connected to my Mac for most recordings. But I did come across some problems with fuzzy sound (Naxos says those were probably isolated files), and in some cases the bit rate is insufficient. At 64 kbps, the music was a bit flat, but still listenable. You can also listen on an iOS device using the NML app, and Naxos says that if you have the high-bandwidth subscription and a good connection, it will try to stream via the app at 128 kbps. Otherwise, it streams only at 64 kbps.
The company calls it an "Invaluable resource for universities, music schools, public libraries, schools, music professionals and collectors," and offers institutional licenses as well. And the supporting information available—biographies, descriptions of works, libretti, and even PDF liner notes for some recordings—show that this is as much a library of information about music as a streaming music service.
Nevertheless, there's no reason why a serious classical music fan wouldn't want to pay for this service. While you won't find top-tier artists on most of the labels present, these are all excellent independent labels that most classical music lovers are familiar with, and the breadth of the selection is impressive. In a way, this can be overwhelming, and for someone like me, interested in discovering classical music that I've never heard, I feel like a kid in a candy store seeing all that is available.
(It's worth nothing that Naxos also has a Spoken Word Library, with more than 500 audiobooks, a Video Library, with more than 1000 videos, mostly of classical music performances, and a Music Library Jazz, with more than 3000 CDs. All of these services are billed separately.)
I'm still hesitant about renting rather than owning music, but as my colleagues have pointed out, there are pros and cons to this type of trade-off. My annual budget for classical music alone is much more than what this service costs, and I buy many albums that I only listen two once or twice—this is the price one pays for being interested in listening to a wide variety of music. With a service like the Naxos Music Library, I can sample so much music, and if I really like something, I can buy it to have it in full quality for good. For listeners interested in the breadth of selection available from a service like this, the cost is fair, though a higher bit rate would make it more enticing and could even replace many of my purchases.
[Senior contributor Kirk McElhearn writes about more than just Macs on his blog Kirkville. Twitter: @mcelhearn Kirk's latest book is Take Control of iTunes 10: The FAQ.]