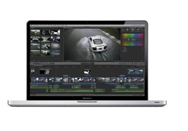 On Tuesday, Apple previewed Final Cut Pro X, the newest version of the company's professional non-linear video editing software. The announcement came at the Final Cut Pro User Group Network Supermeet, being held in Las Vegas during the 2011 National Association of Broadcasters Show.
Apple says Final Cut Pro X has been rewritten from the ground up, with support for 64-bit, a user-interface redesign, and a whole host of new features. The software takes advantage of core Mac OS X features like Cocoa, Core Animation, Open CL, and Grand Central Dispatch to speed up and fine-tune performance.
In addition to a complete UI overhaul, Final Cut Pro X boasts a newly designed floating point linear color system, up-to-4K-resolution-independent playback, a magnetic timeline for keeping audio and video in sync, Compound Clips for easy video nesting, non-destructive color balancing, automatic audio cleanup, and Smart Collections for organizing clips.
The new software has additionally borrowed a trick or two from Apple's consumer-level video editing software, iMovie: It now supports full background rendering—"What that means in practical terms is that this [render] dialogue, that you love?—It's gone!" said Apple video architect Peter Steinauer—and an inline precision editor. It also sports the same automatic face detection (single or group) as iMovie or and the ability to identify shots (medium, wide, or close-up).
Steinauer spoke briefly about the new features before Apple's chief architect for video applications, Randy Ubillos, came on-stage for a full walkthrough of the software.
Final Cut Pro X will be available this June from the Mac App Store for $299.
[via @FCPsupermeet on Twitter, Photography Bay]
Updated at 8:03 p.m. PT with information about pricing and availability.
Updated at 10:57 a.m. PT on April 13 to correct a quote from Peter Steinauer.