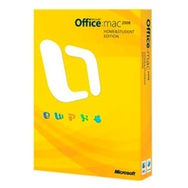 Microsoft updated Office 2011 for Mac on Tuesday, but what of earlier versions of Office? They're not about to be left out in the cold: Microsoft has also released Office 2008 for Mac version 12.2.9, bringing security patches and a couple of other updates to the previous version of its productivity suite.
The bulk of the update is a handful of security fixes cataloged in three separate bulletins. The patches repair vulnerabilities in Excel, PowerPoint, and Office that could lead to remote code execution. Also included in the update are a fix for stability problems, which ought to help prevent Office applications from unexpectedly quitting. And there's now support for Microsoft's SkyDrive cloud storage service, as well as Forms Based Authentication, which is needed for compatibility with SharePoint.
Beyond those changes, there are a couple of application-specific updates: PowerPoint 2008 for Mac boasts improved compatibility with its Windows counterpart, as numbered lists should now display correctly when you open a Mac presentation in Windows. And Entourage 2008 for Mac now displays conversation headers correctly, showing the correct number of unread messages when you're viewing by conversation.
Office 2008 for Mac 12.2.9 requires Mac OS X 10.4.9 or later and can be downloaded from Microsoft's Website or via Microsoft's AutoUpdate.