More than 1700 enthusiastic Final Cut users got some welcome news from Apple Tuesday night, when the company previewed Final Cut Pro X at the NAB 2011 Final Cut Pro Users Group SuperMeet. As one of those 1700 Final Cut users in attendance, I liked a lot of what I saw—though after having an evening to process the news, I still think a number of questions remain about the upcoming release.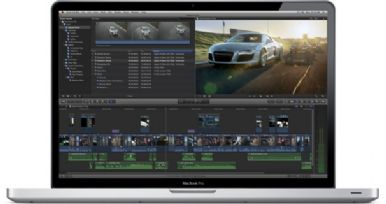 As one of the founding members of the Final Cut user community, I've spent many years attending NAB user group meetings—from the sweltering room that started it all to last night's packed auditorium—and they've always been charged events; this year was even more so. The tension was palpable as people milled around waiting to get a seat and, when they were released, the mad rush to the front of the room was not unlike the swarm for Apple's (sadly, now defunct) Final Cut Pro training sessions at NAB.
Both Final Cut Pro video architect Peter Steinauer and Randy Ubillos, Apple's chief architect for video applications, were on-hand to give us a peek at Final Cut Pro X. To kick off the night's presentation, Steinauer spoke the words every editor in that room was dying to hear: The venerable editing tool had been rewritten from scratch to support 64-bit architecture, finally releasing it from 4GB RAM virtualization limit of the 32-bit architecture.
Apple has also added support for Grand Central Dispatch—the multi-core optimization process introduced in Snow Leopard—to rid the app of those pesky rendering progress bars and frame-size limitations. Rendering is now done almost completely in the background, and the timeline supports resolution-independent footage up to 4K in size. Users will additionally get access to the OS-level ColorSync for color management—which, fingers crossed, will squash the QuickTime gamma issues that have plagued the Final Cut software for years.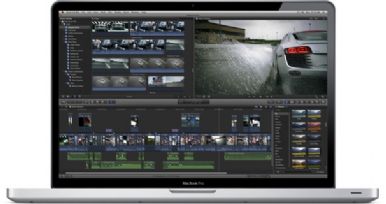 The under-the-hood improvements are stellar, without a doubt, but on top of that, the look and feel of the application has been completely redesigned, with a darker interface that incorporates an array of sliders and buttons rather than lists—perhaps hinting at a more touch-friendly control option in the future. Final Cut Pro X has also taken a page from Final Cut Server's media-handling methodology, incorporating a new keyword threading system and advanced logging features.
None of the other applications from Apple's Final Cut Studio were shown—or even mentioned—on stage, though in discussions after the presentation, Apple marketing chief Phil Schiller implied that the other programs will indeed receive updates. However, it's unclear whether they'll be separated on the Mac App Store as individually priced applications (as Final Cut Pro X is set to be) or presented together as some sort of bundle. Also missing from the presentation was any mention of Final Cut Express, Apple's prosumer video-editing software.
As a professional user, I was excited by a lot of what I saw Tuesday night—particularly magnetic tracks that keep audio and video from losing sync, auditioning that will more easily separate good takes from bad ones, and non-destructive color correction and filtering. All will be fantastic additions to my workflow. Additionally, metadata will now be harvested on import, allowing for better online/offline workflows, while the application's new content aware environment keeps everything in line for easy alternate versioning (similar to Photoshop's history palette).
As intriguing as the brief demonstration was, we weren't shown enough for me to make a critical judgement on whether this will be a home run for professional users, as Apple's presentation certainly implied, or something less spectacular. We saw nothing on log and capture, image transfer, output, or third-party device connectivity; as those are key parts of the editing process, I'd be wary to sign off on this as a hit without a glimpse of those features. That being said, I'm happy to say those articles about Apple "dumbing down" Final Cut were a far cry from the mark—the features touted in Tuesday's presentation make that clear. Additionally, if Apple were so ready to write off its professional base, I doubt the company would have premiered the Final Cut Pro X first look at the SuperMeet, of all places, nor touted Academy Award-winning films such as The Social Network and True Grit as prime examples of what this software can do.
One thing is clear: Apple understands its Final Cut user base, and this release will probably not disappoint them. Personally, I hope that power users like me will be able to tap more thoroughly into the content aware data Final Cut Pro X will be collecting for advanced edits, but I imagine the majority of non-linear editors will be more than pleased with this release.
[Gary Adcock is a Chicago-based film and television consultant, technologist, and glassblower. He offers regular commentary on CreativeCow.net.]