This week's roundup of new accessories for the iPad answers the burning questions: What if I tried to use my new tablet as a frying pan? Just how exotic can a wall-mounting kit get? How do I use my iPad as a wah-wah pedal without leaving footprints? Read on for all the answers.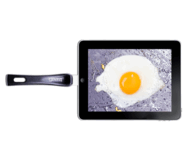 Gear4
If the iPad accessories in your life just don't have enough of that Sharper Image feel for your tastes, UK's Gear4 may have the answer: the $30 iPan. This package features an otherwise-useless pan handle that slides into the iPad's dock-connector port. Download the forthcoming free iPan app, and images of sizzling eggs will appear on the screen, making it look as though you're frying up breakfast on your iPad. (Gear4 is pitching the iPan, somewhat tongue-in-cheek, as a "weight-loss" product, claiming you'll subliminally convince yourself you've had a great breakfast.) The $30 device is not yet available in the U.S.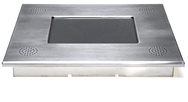 Gravity Switch
There are plenty of accessories that let you mount your tablet to the wall, but few are as fancy—and pricey—as the $349 iBracket from Gravity Switch. The mount weighs 9.7 pounds, thanks largely to four built-in speakers designed to pump out sound. The device comes in more than a dozen varieties of aluminum finish—though custom finishes and designs are also available—and appears to be aimed primarily at app developers who want to show off their wares at trade shows. The iBracket is available for sale now.
II:XX Stands
The music-making capabilities of the iPad 2 have already been well-publicized, but II:XX takes the concept a step farther by turning your tablet into a wah-wah pedal. The $135 iWah mounts your iPad 2 on an aluminum pedal stand, next to a dedicated foot pedal, then, when used with compatible apps, utilizes the tablet's accelerometer and gyroscope to let guitar players control and record effects on the device. You can position your iPad in either portrait or landscape orientation.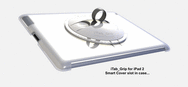 iTab_Grip
The Australian company behind the $50 iTab_Grip has announced a new model for the iPad 2. Like the original, the forthcoming device features a clear-plastic snap-on case with a hub on the back. You hold your iPad using a ring attached to the hub, which can rotate for portrait or landscape viewing. The device is expected "soon."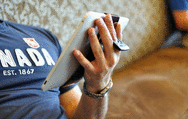 Meglio
Designer Salman Paracha's $50 Meglio is similar to the iTab_Grip, but smaller—a snap-on grip fits only across the middle of your iPad 2, in either portrait or landscape mode. You're left with a grip on the back for comfortable holding. Paracha is aiming to raise $15,000 via Kickstarter to begin production on the device.
PadPivot
Seattle designer Jim Young recently completed a Kickstarter campaign of his own to begin production on the PadPivot, a lap and desk stand for the iPad 2 and other tablets. The stand features a grip plate that fits on your thigh or can be placed on a tabletop. During the Kickstand campaign, a pledge of $25 qualified as a pre-order of the device, but no current pricing information is available. Young is currently taking signups for the next round of pre-orders, with a goal of shipping this spring.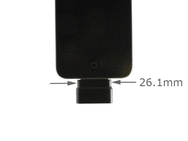 USB Fever
USB Fever has launched two new products that support the iPad 2 and various other Apple products. The $13 30 Pin Dock Male to Female Adapter lets you place your encased iPad, iPhone, or iPod in a dock-cradle accessory without removing the case. The $25 External Portable Battery—also compatible with all dock-connector-equipped i-devices—provides up to three hours of backup power for your tablet (more for smaller i-devices), and includes an LED indicator to let you know how much power remains in the battery.
UI Stencils
The $25 iPad Dry Erase Board from UI Stencils isn't really an iPad 2 accessory. Rather, it's a nifty little piece of equipment that might serve as the foundation for a cool iPad app in the future. This dry-erase tablet features an exact replica of the iPad's screen with a 20-pixel grid. You can take notes on it, or, even better, use it to plot the user interface on your own app.
iPad (1st generation) Family