Some might say that a May-December relationship between SSH and the iPad is doomed to failure, but if Panic's Prompt SSH client for iOS is any indication, the two would seem to have plenty of happy years left.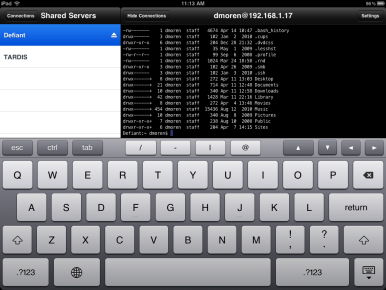 As you might expect, Prompt lets you save your favorite SSH connections for one-touch access. But that's just where it starts. What makes Prompt stand out is its handy features. For example, if you've got Macs on your local network with remote access enabled, you can quickly access them via a Shared Servers entry.
Above the touch keyboard, you'll find a toolbar that boasts useful keys like Escape, Control, Tab, and cursor controls, along with keys that you can customize (by default, they're assigned to frequently needed command-line keys like /, -, |, and @).
Prompt also offers both black-on-white and white-on-black interfaces, an option for large text, and an autocomplete feature that can remember your most common commands. For the truly security conscious, you can create a passcode to protect your open connections and even import SSH key pairs via iTunes File Sharing.
A universal app, Prompt is $5 and requires an iPhone, iPod touch, or iPad running iOS 4.0 or later.