At a Glance
Expert's Rating
Pros
East to use
Handy LCD Screen
Screwless design
Our Verdict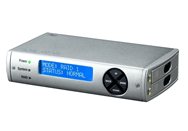 Like its name implies, the ToughTech Duo RAID from Cru-Dataport looks sturdy and feels like it can take a pounding. With its quad interface connectivity, easy-to-use LCD menu system, and screwless hard drive trays, the ToughTech Duo is a two drive portable RAID array that's simple to set up and use.
The ToughTech Duo's aluminum housing looks right at home when paired with a MacBook Pro or Mac desktop computer, and at 6.3-by-3.5-by-1.3 inches, the array resembles a small paperback book in size. Cru-Dataport touts the ToughTech Duo's portability as one of its selling points (especially to audio/video enthusiasts), though the device feels very heavy when held in one hand—at 1.75 pounds, you'll definitely feel the additional weight when traveling.
The ToughTech Duo features two 2.5-inch screwless hard drive trays, and very little effort is required to add or remove a hard drive. To remove or replace a hard drive, you simply push a black latch, press a gray ejector that pops the tray out, and pull the tray out. You then press a drive release button on the back of the tray, and slide your drive in or out.
The ToughTech Duo has two FireWire800 ports and is backwards compatible with FireWire 400 with the proper adapter, which is included. The drive also has a single eSATA /USB 2.0 combo port that can accommodate either connection.
The two-line LCD display has four buttons used to navigate through the menus. Pressing the Up or Down buttons on the menu pad, you can check the RAID, hard drive, and temperature status, as well as change the RAID mode. Our unit came preconfigured as HFS+ and RAID 1 Mirrored, but were able to change the RAID setting quickly. In just ten seconds, we'd changed it from a RAID 1 arrangement to a RAID 0 Striped alignment.
The ToughTech Duo ships with all the necessary cables, a power adapter with interchangeable plugs for international use, a Quick Start Guide, and stand. Our unit had two 2.5-inch Hitachi 500GB 7200-rpm drives inside the array, but you can order it in various configurations.
In our USB 2.0 testing, using a RAID 1 configuration and power adapter, the array's speeds were in line with standard external portable hard drives. The ToughTech Duo scored 31.2MBps and 36.5MBps in our 2GB folder write and read tests, respectively. The results showed a slight improvement in our 2GB file test, writing to the drive at 33.2MBps, and copying the file back to our test bed at 37.2MBps. The array then completed our Photoshop test in 74 seconds,which was 4 seconds slower than the Iomega eGo BlackBelt ( ) and 8 seconds slower than the G-Drive Slim ( ). The AJA System test results from the ToughTech Duo exhibited 32.0MBps write and 36.9MBps read speeds. We also tested the array in a RAID 0 configuration as well, but the results showed little speed difference between the two setups.
Our Firewire 800 test results, on the other hand, were mixed. In a RAID 1 configuration, the ToughTech Duo wrote our 2GB folder at 55.0MBps, slower than both the Iomega eGo ( ) and G-Drive Mobile ( ), but read the folder at 73.5MBps, faster than the aforementioned drives. It then wrote our 2GB folder at 59.3MBps, speedier than the Iomega, but slower than the G-Drive, while reading the folder at 80.6MBps, this time quicker then the G-Drive, but slower than the Iomega. The array went on to finish our Photoshop test in 54 seconds, and post AJA scores of 58.4MBps and 76.5MBps in writing and reading in that order. RAID 0 results were, again, very similar.
Macworld's buying advice
When it comes to price, the ToughTech Duo is rather expensive—it's priced more than twice as high as other similarly configured drives. That being said, it's very easy to use and manage, operates very quietly, and makes hard drive swapping child's play. If you don't mind paying premium prices, the ToughTech Duo is a good choice for your needs.