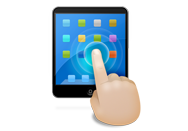 That sound you hear is millions of iOS device owners rushing to sync with iTunes, as Apple has released iOS 4.3.2.
The update addresses just a couple of issues. It corrects a problem with blank or frozen video during FaceTime calls (potentially resolving a strange bug that some users have complained about) and it fixes an issue that prevented some international users from connecting to 3G networks using the iPad Wi-Fi + 3G. There's some question as to whether or not it will also correct a problem experienced by some Verizon iPad 2 users in getting a 3G signal; Apple previously said it was investigating the issue, but gave no timeframe for a fix.
The update also includes a number of security-related patches, such as blacklisting fraudulent security certificates issued by Comodo, a patch for a vulnerability in QuickLook related to maliciously crafted Microsoft Office files, and several fixes for protecting against maliciously crafted Websites.
While users of the CDMA iPhone 4 (read: Verizon iPhone) have not reached iOS 4.3, they haven't been completely left out of the party, thanks to an iOS 4.2.7 update which contains most of the same security fixes as 4.3.2.
The release of this iOS update comes less than a month after the release of the similarly bug-fix-ish 4.3.1 and supports the GSM iPhone 4, the iPhone 3GS, the iPad and iPad 2, and the third- and fourth-generation iPod touch.
To download and install the update—which weighed at upwards of 600 MB for several Macworld staffers—connect your device to your Mac or PC and click Check for Updates in iTunes.
Updated at 11:12 a.m. PT to correct information about the Verizon iPhone.
Updated at 11:24 a.m. PT to shed more light on security fixes.
Updated at 12:09 p.m. PT with information on Verizon iPhone update security fixes.