Having already delivered its personalized approach to news feeds in an iPhone-friendly app, Taptu has now set its sights on the iPad. The software developer on Thursday announced an update to its Taptu social news feed reader that optimizes the app for all iOS devices.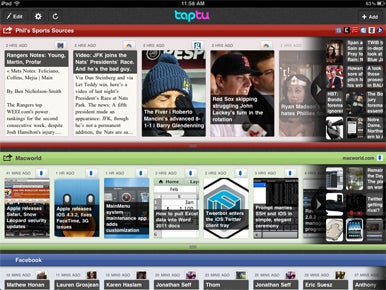 Taptu is built around the idea of giving users more control over news streams to filter out duplicative and uninteresting stories and provide easy at-a-glance access to the content users are interested in. The app goes about this by providing curated streams that feature stories from several sources—users can pick and choose which streams they want. (They can also add single streams from specific sites.) Users can also include social networking feeds from services like Facebook and Twitter among their Taptu feeds.
The iPad version of Taptu retains the look of the original iOS app—feeds are stacked on top of each other, and you swipe horizontally to see the stories in a particular feed—though Apple's tablet gives Taptu more room to play with. To that end, the app now features what Taptu bills as a "Rubik's Cube of news"—basically, a block of icons and headlines on the right hand side of the screen that previews stories further down the stream. (Users have the option of making this disappear, if they find the preview block too cluttered.)
iPad users can also change the height of a stream, so that the streams they care more about take up more screen real estate. Other personalization options include the ability to change a stream's color to make it more easily identifiable at a glance.
The latest version of Taptu retains a feature introduced in last month's version 1.3 update to the app—the ability to mix streams to create your own curated feeds. Dragging feeds on top of each other—say RSS feeds about sports—creates a single stream "built around your own interests," Taptu CEO Mitch Lazar told Macworld. You're also able to share these newly created streams via Twitter, Facebook and e-mail.
It's a feature Taptu bills as "DJing your news mix," and it's one of the ways the company hopes to distinguish its app from the growing number of personalized news readers such as Flipboard and Zite that have been popping up on the iOS platform.
Lazar says his company's app lets users customize and curate news in a way that rival news readers do not. "We've really set ourselves apart from what else is out there," he added.
A free download, Taptu is available from the App Store for any iPhone, iPod touch, and iPad running iOS 4.0 or later.