The iPhone 4 is a versatile device, but it becomes even more useful when you pair it with the right accessory. This week's roundup of cases for the iPhone 4 shows that it's possible to do just about anything with your phone—drink, watch TV, and more. Of course, we've also got cases that just project your phone from bumps and scratches. Read on for more.
OWC
We're not sure how many people in the world want to play Angry Birds and crack open a Bud Light Lime at the same time, but there's got to be a few, right? OWC's rigid " Be A Headcase" case features a built-in stainless-steel bottle and can-tab opener. Even more entertaining? There really is an app for that—specifically, one that counts the number of bottles you've opened and plays Jimmy Buffet songs while you drink. The app is free; the case is available for $13.
Olion
If you ever wished your iPhone acted more like an Apple TV, Olion may have the solution for you. The MooV case contains a wireless interface that can transmit up to three hours of video (or five hours of audio) to a television within 30 feet. The case, which includes its own battery, also sports a pass-through USB port that charges the case and your iPhone simultaneously. Olion hasn't yet announced pricing or sales information.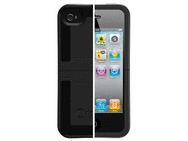 OtterBox
This Colorado company has created yet another line of protective cases for the iPhone 4, the Reflex Series ($45). The Reflex is a two-piece polycarbonate case the maker says surrounds your phone with a "cushion of air." The case is available in four colors and includes a clear screen protector for the phone.
Pinlo Technology
Pinlo Technology's United Case is compatible with both the AT&T and Verizon versions of the iPhone 4. The $33 product is a lightweight, two-part bumper case with a Home button protector. One component is alumninum, the other a plastic frame available in five colors. Front and back screen protectors are included in the purchase, as is a cleaning kit with a microfiber cloth.
iPhone 4 16GB Black (CDMA, Verizon)
Price When Reviewed:
$499