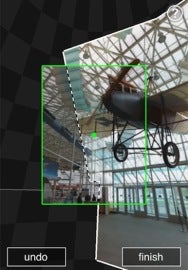 Photos are great and all, but they always create such an unnecessary mystery—like "What's going on behind the guy taking the photo?"
Now you can take the suspense out of smartphone photography with Microsoft's new panoramic photo app Photosynth, available for free on the App Store.
Using an interactive capture method, the app collects photos of your environment as you pan around the scene, and creates a complete 360-degree image with its advanced photo-stitching engine. Once your photos have been combined to create a fully immersive panoramic photo, you can view the full image through the app's built-in viewer and save it online at Photosynth.net.
Photosynth allows also for easy and quick sharing of panoramas. Not only can you quickly send your pictures to others via iOS's Camera Roll, but you can also upload interactive versions to your Facebook page or share the location via Bing Maps, allowing others to view your panorama as well.
Photosynth runs on the iPhone 3GS and iPhone 4, the iPad 2 and the fourth generation iPod Touch and requires iOS 4.0 or later.