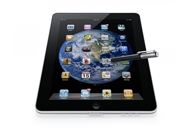 Looking for an iPad stylus? As of Wednesday, you have yet another option to consider: The Bamboo Stylus for iPad, created by the fine folks at Wacom.
Joining the multitude of iPad styluses already on the market, Wacom's Bamboo Stylus features a 6mm silicon rubber nib—around 25 percent smaller in diameter than most other rubber nib offerings available—and a weighted metal frame for proper balance when writing, sketching, or creating illustrations.
It's important to note that while Wacom is primarily known for its line of pressure-sensitive tablets and displays, the company's iPad stylus itself brings no pressure-sensitivity to the iPad; like other offerings, the Bamboo Stylus is limited by the same software limitations currently present on Apple's device.
The Bamboo Stylus will be available in mid-May for $30 from most major retail outlets, Amazon, and from Wacom's own Website.