Whether you call yourself green or just a good-old-fashioned miser, saving energy and resources usually means saving some money too. But how does that apply to using computers? In honor of Earth Day, we polled Macworld's readers to find their favorite tips for green computing. Here are the results.
1. Use PDFs whenever possible
Paper products represent the largest portion of the United States' trash, according to the U.S. Environmental Protection Agency. In 2007, they made up roughly 68 million tons (or a little over a quarter) of all materials in the municipal waste stream. But even if you don't feel ready to go all the way to a paperless workflow, you can still cut back on your paper use.
It's easy to take advantage of OS X's built-in support for the PDF file format in small but significant ways. Reader ckasper called out the ever handy Save As PDF feature as a paper saver. For instance, instead of printing receipts for every online purchase, press Command-P and in the Print window that appears, click on the PDF button. Choose Save PDF To Web Receipts Folder and a copy of the receipt—images and all—will be saved to a pre-made folder in youruserfolder/Documents.
If you want to save PDFs in a different folder you can do that too. (For instance, make one for "Donations.") Create your new folder wherever you'd like. Then, next time you need to save a PDF, press Command-P, click on the PDF button, choose Edit Menu from the menu, and then click on the plus (+) button to add your folder. The folder will appear in the PDF menu from then on.
Reader Matt Clement also vouched for the power of PDFs. He e-mails reports to himself so he can view them on his iPad instead of printing out hard copies. "I send them in PDF and them open them in iBooks, so I've got them all week in one handy place," he said. (We recently shared an Automator workflow that simplifies moving PDFs onto an iPad or iPhone.)
2. Make the most of your paper
If you really must print, use both sides of the page, noted reader bradhurley. Most newer printers can do this automatically. (Without requiring you to turn the paper over and put it back in the paper tray.) Press Command-P, click on the menu at the lower-right of the dialog box and choose Layout. If you have the option, you'll see a Two Sided menu at the bottom of the dialog box. Choose Long Edge Binding or Short Edge Binding.
When you need to check through a large document and can't bear to do it onscreen, consider cramming more than one page onto a sheet of paper. To do this, go to the same menu, choose Layout, and then choose a number (up to 16) from the Pages Per Sheet pop-up menu. Choose a layout direction to control how the pages stack up.
Still got used sheets of paper lying around? Reader kevinbriankelly recommended using old printed documents for scrap paper. For more tips, see "Simple ways to save when you print."
3. Turn things off when you're not using them
The easiest way to save energy is to turn your equipment off when you're not using it as reader Maxer and ckasper suggested. Putting your computer sleep is good, but a sleeping Mac still draws power. Turning it off altogether reduces the load even more.
Still, if you're backing up your Mac, you'll want to give it some time to do its thing when you're not at your keyboard. Go to System Preferences, choose Energy Saver, and click on Schedule. A sheet will appear where you can choose a daily startup and shutdown time for your Mac. You can even determine a separate schedule for the weekdays and weekend by clicking on the Every Day pop-up menus.
Reader technologist noted that many devices—especially all those battery chargers and peripherals—continue to draw power (known as their vampire draw) even when they're not being used. (See for yourself by plugging one in to a $20 Kill A Watt electricity usage monitor or Belkin's $30 Conserve Insight energy use monitor.) The only way to truly cut their power use to zero is to unplug them or use a "smart" power strip.
Sophisticated Circuits' $199 PowerKey Pro USB 650 lets you choose which devices will be completely powered down. Belkin offers a number of energy-saving devices that combine, for example, surge protection with outlets that switch off at the end of the day. The $45 EcoStrip 2.0 switches off power to peripherals when your Mac is turned off. The not-quite-available-yet UFO Power Center will include four outlets that can be remotely controlled and report back on energy usage to an iPhone app.
You can get ahead of the game by buying energy efficient equipment at the start. Reader bradhurley pointed out that the ideal computers and monitors are rated EPEAT Gold or Silver. "These computers generally include recycled content, exceed Energy Star standards, and are made to be easy to recycle," he said. All Apple computers are not only Energy Star qualified, but also meet the EPEAT Gold standard.
4. Reuse old equipment
The U.S. Environmental Protection Agency estimates that 29.9 million desktops and 12 million laptops were discarded in 2007—that's roughly 115,000 computers out with the trash each day. Similarly, the agency estimates 235 million units of electronic products are in storage—sitting unused in home closets, attics, or basements.
Many readers, such as nyalathotep, encouraged others not to let old equipment go to waste. First consider if friends or family might benefit from hand-me-downs or if there's a job for old Macs to do (see "Use an old Mac as a backup server"). It's surprisingly easy to sell old electronics on sites like Craigslist or eBay. Check out our stories about "Preparing an old Mac for sale" and how to "Preserve your Mac's resale value."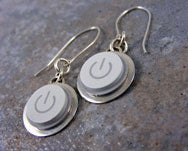 On the flip side of that, others wrote in to say their golden rule was to buy used instead of new. "Don't grossly overbuy your machine," added reader bastion. "The difference in power consumption between a high-end mini (peak) and a low-end Mac Pro (idle) is truly staggering. It's not only green but it keeps money in your wallet, which for many people is far more compelling. My early 2009 mini has paid for itself in the form of lower electric bills compared to the G5 it replaced."
For more tips on recycling, donating, and even using Mac parts in craft projects, see "How to recycle your Mac" as well as Apple's own recycling programs for Macs and displays and for iPod and mobile phones.