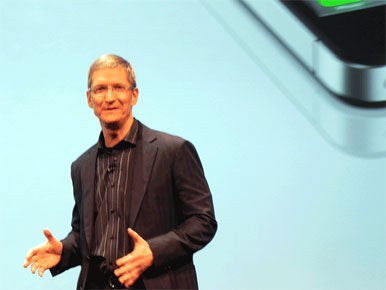 [Editors' note: When Apple releases its quarterly earnings report, it holds a conference-call with financial analysts. Some of the more interesting tidbits about how Apple views the world take place in this call, when Apple Chief Operating Officer Tim Cook answers analyst questions. Here's an edited transcript of what Cook said on Wednesday's call.]
iPad 2
Demand on iPad 2 has been staggering. We're still amazed that we are still heavily backlogged, not only at the end of the quarter but also up to date. However, I can tell you that I'm extremely pleased with the progress of the manufacturing ramp and we were so confident that we rolled out 25 additional countries at the end of last month, and we are shipping to an additional 13 countries next week, and we're planning to add even more countries through the quarter. So I'm very confident that we can produce a very large number of iPads for the quarter. Whether that will be enough to meet demand, I don't know. Demand has been staggering and I'm not going to predict when supply and demand will come into balance. I can only be confident on supply side.
By the end of the quarter, we were in supply/demand balance [for the iPhone] in almost all of our major markets. And I would say, as of today, we're in supply/demand balance [for the iPhone] virtually everywhere. The Mac is in supply/demand balance, and the iPod is in supply/demand balance, and the iPad has the mother of all backlogs that we're working very, very hard to get out to customers as quickly as we can.
Product transitions are never simple, and as you can probably appreciate, we are in a position that we have to call them for many, many weeks in advance, in terms of how many of the current product we want to produce and the dates at which we will announce the new product.
We drew the channel down on the original iPad by 570,000 units during the quarter, and we added at the end of the quarter 170,000 of the new iPad 2s, although most of that was in transit at the end of the quarter. And so the net reduction was 400,000 and so our sell through was above five million for the quarter. And again, this has to be planned quite a ways in the future.
Just to remind you, we sent out an invitation to the [iPad 2 launch] event toward the end of February, we had the event in early March, we placed the unit on sale in the United States on March 11, and our quarter ended about 2 weeks thereafter. So, there was some expectation of a new product, and we would have obviously factored that into our thinking about the product transition, as we planned the number of the original unit to build.
So I think the key point here is that I'm extremely pleased with the progress we've been making on the manufacturing ramp. We have gotten off to a materially better start and produced a lot more units than we did on the original ramp of the first iPad, and we're so confident with our ability to supply that we've already put on 25 additional countries at the end of March, and we'll be placing on 13 more next week, and we'll do even more as we step through the quarter.
[Can you compare iPad 1 sales to iPad 2 sales?]
We purposely aren't giving that because we don't want to help out any of our competition. But I would tell you, I wish we could have produced a lot more iPad 2s, because there were certainly a lot of people waiting for them.
[What about offering an iPad subsidized by a wireless carrier?]
The iPad today is subsidized in a few markets. It's subsidized in Korea if people sign a 24-month contract, it's subsidized in Japan with a 24-month contract, and a couple of European countries. But the vast majority of people that are using the iPad on 3G are doing so on a pay-as-you-go plan, a no-commitment plan. And so yes, carriers can do that, but I think many customers prefer the pay-as-you-go plan.
[What about the iPad in education?]
K-12 is sort of even more conservative than enterprise on adopting new technology. And last quarter, we were about a 1:1 ratio of iPads to Macs, which is, I think, amazing given the short life of the iPad. And really demonstrates what kind of opportunity there probably is there.
iPhone
In terms of iPhone, we did actually very well everywhere. I'd call out two places where it was just off the charts. The U.S. grew 155 percent year over year. Obviously adding Verizon and beginning to offer iPhone to their enormous customer base was key in that. However, as you heard from AT&T's announcement this morning, AT&T did extremely well during the quarter. So the U.S. as a geography grew at 155 percent, and that's about three times IDC's forecast of growth for the smartphone market, which was about 48 percent. Also, we continued to be on a tear in China. Greater China saw iPhone sales being up over three times. Almost 250 percent. This catapulted revenue for first fiscal half in Greater China to just under $5 billion, which is up almost four times year over year. So we're extremely happy with how we're doing in China.
[What about launching a 4G/LTE iPhone?]
I was asked this question, or a similar question, when we launched the iPhone with Verizon. What I said then, and I still see it as being the case today, and I think you can see this in the products that have been shipped, is that the first generation of LTE chipsets force a lot of design compromises with the handset, and some of those we are just not willing to make.
And so we are extremely happy with the iPhone 4 and iPhone 3GS. Hitting 18.6 million units was something much larger than we thought we could do this quarter, and we're happy to have gotten it out to three more large carriers.
[Can you talk about future CDMA carrier partners outside the U.S.?]
On the carrier side, I don't want to get into specifics about CDMA (or GSM for that matter). But we are constantly looking at where we should bring on incremental partners. As we said earlier, we brought on three large ones this quarter, with Verizon, STT and Saudi Telecom. That's on top of the ones that we brought on in December, where we added O2 and Vodafone in Germany. And so we are constantly looking and adding where it makes sense, and you can keep confidence that we'll continue to do that.
[What about moving the iPhone into the prepaid market?]
Our focus has very much been on China. We wanted to understand that market and understand the levers there. iPhone sales were up over three times during the quarter, and in the first half we did just slightly under $5 billion in greater China in revenue, which is about 10 percent of Apple, to put it in perspective. And it wasn't but a couple years ago that that number would have been less than two. And so it's a sea change. That's certainly not what I would call a classic postpaid market by any means of imagination. And so we have some ideas about other countries as well. I'm not in a position that I want to share those today. We purposefully put the bulk of our emphasis from an emerging markets point of view, in China, to really learn, and then we're going to take that learning to other markets.
Considerably more [than half of China is pre-paid wireless]… I think the first digit would start with a 9.
Mac growth
The growth on the Mac has been enormous in Asia. The last quarter we were up 76 percent in Asia Pacific, this is many multiples of the growth that region is seeing for the market. I believe the IDC forecast is around six percent. And so we're seeing enormous growth in the Mac there. Japan also did quite well on the Mac for the quarter and the U.S. had a surprisingly strong quarter for the Mac, Americas is up 25 percent, the U.S. was up just slightly higher than that. Our market share is obviously less outside the U.S. in most places than it is in the U.S., and so I think it speaks very, very well for the opportunity that the Mac has. We've now hit 20 quarters in a row where we've outgrown the PC market, and the momentum is still there. We seem to be the only guys that are really focused on building innovative products in that space.
There are several of the international countries that are extremely portable-focused, and you can see that we had enormous growth in our portables for the quarter. However, part of that is that we had a launch of the new MacBook Pro line. But honestly I see popularity in both the iMac and the portable [form] factor and believe there is a great future for both.
[The iPad] clearly seems to be creating a halo effect for the Mac. And I think that's one reason we see the growth that we are seeing on the Mac. You know, it's amazing when you see the 28 percent year over year versus the worldwide market in PCs contracting by 3 points. It's an astonishing delta.
Android vs. iOS
I just saw yesterday… the ComScore data released yesterday reported that the iOS platform outreaches Android by 59 percent in the U.S. And so this is an enormous percentage. On a worldwide basis, we just did 18.6 million iPhones, which is up 113 percent, which is materially faster than the market rate of growth. And we launched the iPad 2 and sold every one of 'em that we could make. As we said before, we're gaining traction in enterprise on both iPhone and iPad with astonishing 88 percent and 75 percent respectively of the Fortune 500 companies deploying or testing these. We've got the largest App Store with over 350,000 apps for iPhone and 65,000 iPad-specific apps on iOS. Versus what appears to be fewer than a hundred on Android.
And so we feel very, very good about where we are and we feel great about our future product plan. We've also paid over $2 billion to developers and we've had well over 10 billion applications downloaded. And so our business proposition is very, very strong. And as we've said before, we continue to believe—and even more and more every day—that iPhone's integrated approach is materially better than Android's fragmented approach, where you have multiple OSes on multiple devices with different screen resolutions and multiple app stores with different rules, payment methods, and update strategies. I think the user appreciates that Apple can take full responsibility for their experience, whereas the fragmented approach turns the customer into a systems integrator, and few customers that I know want to be a systems integrator.
Steve Jobs
He is still on medical leave, but we do see him on a regular basis. And as we previously said, he continues to be involved in major strategic decisions. I know he wants to be back full-time as soon as he can.
Samsung
We are Samsung's largest customer. And Samsung is a very valued component supplier to us, and I expect that strong relationship will continue. Separately from this, we felt the mobile communication division of Samsung had crossed the line, and after trying for some time to work the issue, we decided we needed to rely on the courts.
On Japan and Apple's supply chain
Let me sort of step back and talk about Japan in general. First of all, this is an incredible tragedy and our hearts go out to everyone involved. Apple as a company has a very long history and has many strong ties to people in Japan, and we're very, very saddened by the situation, and we've undertaken various actions to assist in the relief effort. The economic impact that we'll address today pales in comparison to the human impact.
Regarding our business in Japan, we had some revenue impact in Q2, but it was not material to Apple's consolidated results. We believe revenues will be approximately $200 million less in Q3, and this has been factored into the guidance [we] provided you earlier.
Regarding our global supply chain, as a result of outstanding teamwork and unprecedented resilience of our partners, we did not have any supply or cost impact in our fiscal Q2 as a result as the tragedy, and we currently do not anticipate any material supply or cost impact in our fiscal Q3. To provide a bit more color on this, we source literally hundreds of items from Japan, and they range from components such as LCDs, optical drives, NAND flash and DRAM to base materials such as resins, coatings, and foils that are part of the production process that are several layers back in the supply chain. The earthquake and subsequent tsunami and the associated nuclear crisis caused disruption for many of these suppliers. And many unaffected suppliers have been impacted by power interruptions. But since the disaster, Apple employees have literally been working around the clock with our supply partners in Japan and have been able to implement a number of contingency plans. Our preference from the beginning of this tragedy has been to remain with our long-term partners in Japan, and I have to say, they have displayed an incredible resilience that I've personally never seen before in the aftermath of this disaster. So while we do not currently anticipate any material impact to our component supply or cost in our fiscal Q3, we do need to caution everyone that the situation remains unpredictable, given recent aftershocks, the uncertainty about the nuclear plant, and potential power interruptions.
Further, there are some supply risks that are beyond the current quarter, and although we know of no issue today that we view as unsolvable, the situation is still uncertain and there's obviously no guarantee. For this reason it's difficult to predict whether the issues created by the tragedy would impact revenues beyond Q3. However, I'll be happy to address Q4 on our next call in July.
As of today we currently do not anticipate any material supply (or cost impact as far as that goes) in our fiscal Q3. That's the quarter that we're in now, that ends in June. Beyond June, there are risks, but there's no issue that we're aware of today that we view as unsolveable. However, new things could happen. I'm sure you've been paying attention to the news: there's aftershocks, there's still uncertainty about the nuclear plant, there's power interruptions. If that stays at the level that it is today, I'm not as worried. I would worry if something happened and took a turn for the worst, and obviously I can't predict that and certainly hope that it does not occur.