While the Mac App Store might be particularly suited to big apps like Adobe Creative Suite or Microsoft Office, it's the perfect home for little utilities. It's full of handy bits of software that do one thing or another very well and make your computing life just a little easier.
Caffeine 1.1.1
Find Any File 1.5.1
Find Any File ( ) will remind veteran Mac users of the search interface in the classic Mac OS. You choose a location to search (specific disks, servers, or folders), then enter your criteria (which can include name, modification or creation date, size, type, and more). Because Find Any File uses the file system's search features, it can be faster than Spotlight for some searches; it can also find some files that Spotlight can't. The only downside is that Find Any File can't search the contents of files, as Spotlight can. Still, if you find Spotlight wanting, Find Any File could be the tool you need.—Dan Frakes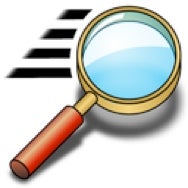 $4; Thomas Tempelmann
FlashFrozen
Layers 1.0.3
There are plenty of ways to take screenshots—with OS X's own Grab utility, for instance. But most of these types of tools capture your entire screen, a selected portion of your screen, or a single on-screen element (a window, menu, or icon). To get a decent shot, you need to organize windows and clear out stuff you don't want to show. That's why Layers ( ) is so amazing. It grabs screens as Adobe Photoshop files, in which every on-screen item resides on its own layer; you can then edit those layers in Photoshop. So you can just capture the screen as it is, and then later move things around as you desire.—Dan Frakes
$25; Wuonm
moveAddict 1.51
Neu 1.0.1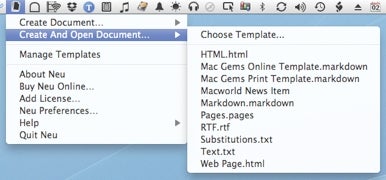 When you right-click inside a folder in Windows, the contextual menu includes an option to create a new document. There have been Mac utilities that did the same thing, but they haven't lasted; Neu ( ) picks up that mantle. With Neu running, you can create a new file in five different ways (via the menu bar, the Dock, Services, a contextual menu, or a keyboard shortcut). Neu can then either create a new document in the active Finder window or create the document and then open it in the appropriate app. It offers a few default file types—PNG image, or a document in plain-text, RTF, HTML, or Pages format—but you can easily customize that list.—Dan Frakes
$10; Elegant Chaos
QuickCursor 2.0
Witch 3.5.2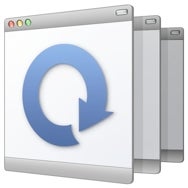 Longtime Macworld favorite Witch ( ) provides an alternative to Mac OS X's built-in Application Switcher (Command-Tab): Instead of showing you a list of open programs, Witch displays a list of all open windows in all running applications, letting you quickly switch to any of them. The latest update to Witch displays shortcut keys for switching directly to the most-recently used windows, and displays minimized windows differently from regular ones. More importantly, Witch lets you perform a variety of actions—such as Close, Quit, Hide, Minimize, Unminimize, and Reveal In Finder—on the windows and programs it shows; you can also use Quick Look on windows.—Dan Frakes
$14; Many Tricks
Note: When you purchase something after clicking links in our articles, we may earn a small commission. Read our affiliate link policy for more details.