While the Mac App Store might be particularly suited to big apps like Adobe Creative Suite or Microsoft Office, it's the perfect home for little utilities. It's full of handy bits of software that do one thing or another very well and make your computing life just a little easier.
Caffeine 1.1.1
You know it's happened to you: You're watching a video or giving a presentation on your Mac, and you haven't touched the keyboard or mouse in a while, and suddenly the screen dims (or your screensaver starts) because your Energy Saver settings kick in. Caffeine ( ) solves that problem by temporarily overriding those settings. Click on the coffee-cup icon in the menu bar and your Mac will stay awake; to revert to Energy Saver's normal settings, just click the cup again. If you Control-click the icon, you can activate Caffeine's no-sleep feature for set amounts of time, after which your Mac automatically returns to its normal Energy Saver behavior. This is one of those apps that solves one very specific problem, but it's one that many of us have; Caffeine provides a clean and simple solution.—Dan Frakes free; Lighthead Software
Find Any File 1.5.1
Find Any File ( ) will remind veteran Mac users of the search interface in the classic Mac OS. You choose a location to search (specific disks, servers, or folders), then enter your criteria (which can include name, modification or creation date, size, type, and more). Because Find Any File uses the file system's search features, it can be faster than Spotlight for some searches; it can also find some files that Spotlight can't. The only downside is that Find Any File can't search the contents of files, as Spotlight can. Still, if you find Spotlight wanting, Find Any File could be the tool you need.—Dan Frakes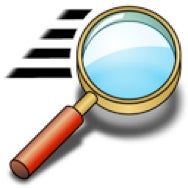 $4; Thomas Tempelmann
FlashFrozen
Formerly known as BashFlash, FlashFrozen ( ) uses a systemwide menu-bar icon to indicate how much of your CPU Flash is using. If your browser (Safari, Chrome, or Firefox) is bogging down, a glance at the menu bar will tell you whether or not Flash is causing the problem: A dimmed icon means no Flash content is currently loaded; a black one means Flash content is loaded but not using much of your processor; red means Flash is using 30 percent or more of your CPU's capacity. If you know which site is responsible, you can just close the tab or window it's in. If not, you can open the FlashFrozen menu and choose Kill Flash Plugin. That will kill Flash—and only Flash—on Web pages that are open in your browser, leaving your other browser windows and tabs intact.—Dan Frakes free; Tyler Loch
Layers 1.0.3
There are plenty of ways to take screenshots—with OS X's own Grab utility, for instance. But most of these types of tools capture your entire screen, a selected portion of your screen, or a single on-screen element (a window, menu, or icon). To get a decent shot, you need to organize windows and clear out stuff you don't want to show. That's why Layers ( ) is so amazing. It grabs screens as Adobe Photoshop files, in which every on-screen item resides on its own layer; you can then edit those layers in Photoshop. So you can just capture the screen as it is, and then later move things around as you desire.—Dan Frakes $25; Wuonm
moveAddict 1.51
Windows switchers and longtime Mac users alike agree: It'd be great to be able to cut and paste files. The utility moveAddict ( ) provides a way to do just that: Select a file or folder in the Finder and then invoke moveAddict's Cut command (from the systemwide menu, Finder-window toolbar button, or keyboard shortcut); switch to the desired destination, and paste. The program won't delete the item from its original location until you paste it elsewhere. And if you cut a folder, and the destination already contains one with the same name, moveAddict will ask if you want to replace the existing folder, merge the contents, or do nothing.—Dan Frakes $8; Kapeli
Neu 1.0.1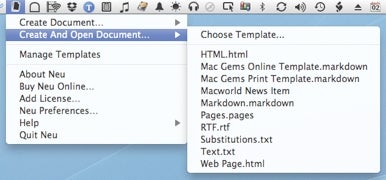 When you right-click inside a folder in Windows, the contextual menu includes an option to create a new document. There have been Mac utilities that did the same thing, but they haven't lasted; Neu ( ) picks up that mantle. With Neu running, you can create a new file in five different ways (via the menu bar, the Dock, Services, a contextual menu, or a keyboard shortcut). Neu can then either create a new document in the active Finder window or create the document and then open it in the appropriate app. It offers a few default file types—PNG image, or a document in plain-text, RTF, HTML, or Pages format—but you can easily customize that list.—Dan Frakes $10; Elegant Chaos
QuickCursor 2.0
Between social networking and Web apps, we do a lot of typing in our browsers. If you prefer to do that typing in your favorite text editor, QuickCursor can make that happen: From your browser, Twitter client, or word processor, click on the QuickCursor menubar icon and choose an editor. QuickCursor ( ) then switches you to that editor and pastes any text you were working on. When you're done editing, you use the standard Save and Close commands; QuickCursor switches back to the original program and pastes the edited text.—Dan Frakes $5; Hog Bay Software
Witch 3.5.2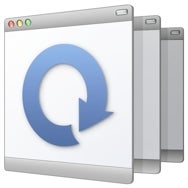 Longtime Macworld favorite Witch ( ) provides an alternative to Mac OS X's built-in Application Switcher (Command-Tab): Instead of showing you a list of open programs, Witch displays a list of all open windows in all running applications, letting you quickly switch to any of them. The latest update to Witch displays shortcut keys for switching directly to the most-recently used windows, and displays minimized windows differently from regular ones. More importantly, Witch lets you perform a variety of actions—such as Close, Quit, Hide, Minimize, Unminimize, and Reveal In Finder—on the windows and programs it shows; you can also use Quick Look on windows.—Dan Frakes $14; Many Tricks
When you purchase through links in our articles, we may earn a small commission. This doesn't affect our editorial independence.