The New York Times and Washington Post launched competing news aggregation services this week, late old-media arrivals to a field dominated—in the iOS universe anyway—by pioneers like Flipboard and Zite.
On Thursday, the Times launched News.me, one day after the Post's new Trove service. Both offer users news and headlines based on their social media preferences—but in slightly different ways.
News.me—which the Times created in partnership with URL-shortening service Bit.ly—has its eye on the bottom line: Users can subscribe to the service for $1 a week or $35 a year. Although you can sign up online to get a daily e-mail digest of the news, the service is most at home on News.me's iPad app.
There, News.me plucks selected headlines from your Twitter feed—the Twitter account is required—and displays them in a vertical list of headlines and short summaries. If the news from your Twitter feed is less-than-scintillating, News.me offers a list of "featured users" whose news-heavy feeds might be worth following. (Somewhat amusing: The featured users include Arianna Huffington, who has been sharply criticized by Times editor Bill Keller for her Huffington Post's aggregation activities.) Overall, the user experience of News.me feels like Flipboard, but without as many customization options or the cool magazine-style user interface.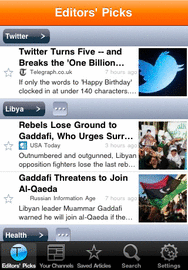 Trove takes a different approach. For one thing, it's free: No subscription fees are required at this point. It's also not quite as tied to mobile devices—there is the iPhone app (with an iPad version reportedly on the way) but it also lives independently on the Web. The service connects to Facebook, and draws from pages you have "liked" there to create news channels reflecting your interests. It is more versatile than News.me, though, offering users the ability to easily add channels based on their other interests. But while News.me offers users a choice between reading an article directly on its Web page or in a "streamlined" Readability-style view, Trove offers only the Web option.
News.me is a free download—though it comes with the aforementioned subscription costs—and compatible with iPads running iOS 3.2 or later. Trove is also free, and compatible with devices running iOS 3.1.3 or later.