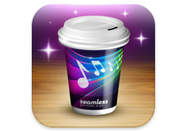 Has this ever happened to you? You're home, rocking out to iTunes, when suddenly life's obligations require that you exit your abode and brave the world outside it. You pause iTunes, reach for your iPhone, plug in your headphones—and weep. Because Cee-Lo was about to hit the bridge when you paused iTunes, and now you're forced to either start the song over again on your iPhone, or fast-forward to where you left off, or just listen to another song entirely. All terrible options.
Thanks to the fine folks at Five Details, this tragic scenario need never recur in your lifetime. They've created a new iPhone app called Seamless (along with a free, necessary companion app in the Mac App Store) that, yes, seamlessly transitions your music, mid-song, from iTunes to your iPhone. All you need to do is launch the Seamless app on your iPhone, tap a button, and it takes care of the rest: Your Mac fades out; your iPhone fades in.
The Seamless app lacks playback controls, but that needn't be cause for concern. The app works by starting the right song at the right spot using iOS's iPod app, so you can handle further track manipulation by just switching over to the music player. And the app's sole button ("Transition to iPhone") magically becomes "Transition to Mac" after you tap it, so you can have your Mac pick up right where your iPhone leaves off, too.
As per an unpublished App Store guideline, Seamless's launch comes complete with a delightful promotional video directed by and starring Adam Lisagor.
The iPhone app costs $1, and requires iOS 4.2 or higher, along with a love of unceasing rock.