This week's roundup of iPhone 4 cases has a very Judas Priest flavor—we're breakin' the law, breakin' the law, breakin' the law. Well, not exactly, but you do need to jailbreak your iPhone if you want to use a couple of the latest cases to hit the market. And if you're more mild-mannered than that, even the legal cases have a monstrous side.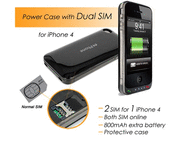 USB Fever
If your problem with the iPhone 4 is that it's only one phone, USB Fever has your solution with its new $250 Dual Standby/Dual SIM with Power Pack. At first glance, the device is a conventional black bumper case, but closer inspection reveals the battery and dual-SIM capability, giving you the capability to answer calls for multiple phone numbers on just one iPhone. The only problem? You'll need to jailbreak your iPhone 4, after which you'll need to install software to juggle the dual phone channels. The second SIM only offers voice and SMS service—no Internet is available, and SMS alerts will sometimes be available only in vibrate mode.
Rebel Simcard
USB Fever isn't the only company entering the dual-SIM market. UK-based Rebel Simcard has introduced the new $250 2Phone case for the iPhone 4, which the company pitches as allowing "users to make and receive calls simultaneously." The slim bumper case also requires jailbreaking and installation of software, and it includes a built-in battery. Check out this video for a demonstration.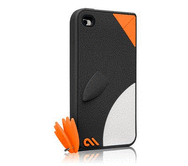 Case-Mate
Not every new case requires that you flout Apple's rules. Accessory maker Case-Mate has two new offerings for the iPhone 4. The $25 Monsta is "guaranteed to attract screams" thanks to artwork featuring toothy, blood-dripping ogres applied to the silicone shell. (The backside camera lens acts as one of the "monsta's" eyes.) The $25 Waddler is less gruesome, featuring an abstract penguin design available in three colors. Both cases are available for immediate order.
Incipio
California's Incipio has debuted two new cases for the iPhone 4. The $35 Delta is a hardshell case with a silicone core and an acrylic exterior, and it's available in four colors. The $35 Step is a semi-rigid case that comes in three colors. Each case includes a protective screen film, applicator card, and microfiber cleaning cloth to protect your phone's touchscreen.
Marware
This Florida-based company has unleashed a whole line of cases for the iPhone 4. The $35 C.E.O. Flip-Vue is a leather flip-top holster that comes in brown or black. The C.E.O. Premiere—available at the same price and in the same colors—is a leather hip case that opens to allow the phone's removal when making or taking a call. Marware is also selling two purse-style iPhone carriers: the $45 SoBe, which acts as a vertical leather purse that can also carry lipstick, ID, and other necessities, and the $40 Emmie, which looks more like a traditional leather clutch. (Both come in black or white models.) And if you like your iPhone case with a touch of neon, the $30 Accent series offers a white-leather flipcase with a stripe that comes in five different colors.