Online gadget store ThinkGeek can't seem to put up a fake product as an April Fool's joke anymore without people demanding it be made, because their goofy ideas are just too clever to go to waste! Last year, their gag was the iCade, a miniature arcade cabinet that you could slot your iPad into and enjoy any classic game on the tablet. In reality, games would have to be specifically coded to support the iCade.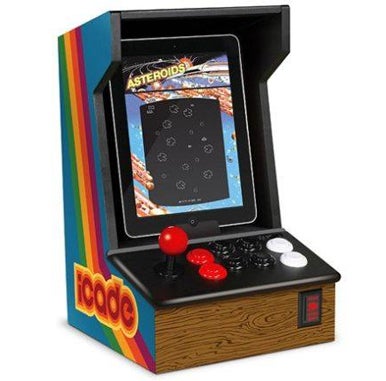 Eventually, ThinkGeek buckled and began looking into making the iCade real. They soon partnered with Atari, whose recent iOS app Atari's Greatest Hits has plenty of games that would work with the iCade's arcade joystick and buttons.
Now, the iCade is a real thing, and for $99 you can get the cabinet casing, which fits both iPad models, is and features genuine arcade controls, plus a fake coin slot. Again, Atari's Greatest Hits is the only app that supports the iCade, but ThinkGeek is planning to release an API for the device that will let developers support it at their will.
Unfortunately, ThinkGeek's initial shipment sold out in a flash, but they're already taking orders for a second shipment on May 20.
[Via Engadget ]